Lindsay Lohan jailed for 90 days
Lindsay Lohan is heading to jail after breaking the terms of her probation for drink driving.
A judge in Los Angeles sentenced the troubled star to 90 days in prison.
She was also ordered to take substance abuse classes.
The 24-year-old broke down in tears as the sentence was passed. She had been recalled to court for failing to attend alcohol awareness sessions, ordered after a 2007 conviction for drunk-driving.
Caught cheating
In an emotional statement, Lohan insisted that she was taking the terms of her probation seriously.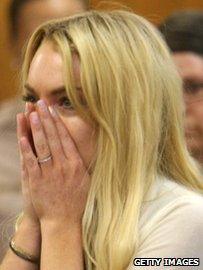 She said: "I'm not taking this as a joke. It's my life. It's my career".
However, Judge Marsha Revel criticised the young star, saying her behaviour was like "someone who cheats but doesn't think it's cheating if they don't get caught".
Lindsay Lohan admitted driving under the influence of alcohol, and using cocaine in August 2007.
At the time she was sentenced to one day in jail.
The actress ended up spending just 84 minutes behind bars.
Since then she has repeatedly failed to stick to the terms of a three-year probation order.
In May 2010 she failed to turn up for a court progress hearing, claiming to have had her passport stolen while in Cannes, France.
She also missed a number of alcohol education classes.
Her jail sentence is due to begin on 20 July.