Plan B: 'Label rejected new album'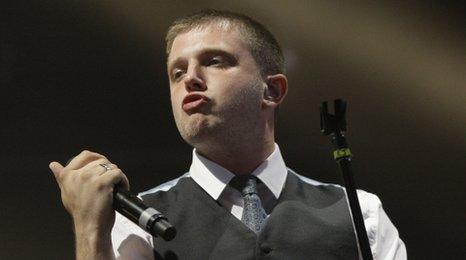 Plan B will release a new hip hop album himself after his record label said they didn't like it.
The rapper's second album The Defamation Of Strickland Banks has sold more than 500,000 copies since being released earlier this year.
He said: "The label said, 'Look, we love your soul record. We know what to do with that.
"With the hip hop it's not going to get play on radio, we don't know how to market it and we're not feeling it'."
'Offended'
The album, already finished and called The Ballad Of Belmarsh, is the hip hop "version of events" in the story of Plan B's alter ego Strickland Banks.
He originally wanted to release the albums as a double CD, but he said the label "talked him out of it".
"I was offended but I said, 'Alright cool'. This is the compromise - I take that hip hop record, I put it out on my own label and you own none of it.
"I'll promote it off the back of my soul record and that's what I'm doing.
"The label was over the moon, they got what they wanted and I got what I wanted."
'Piece of art'
Off the back of the success his most recent album has achieved, the rapper has just announced plans for a UK arena tour in March 2011.
"I know The Ballad Of Bellmarsh is not going to work commercially, I know radio ain't going to play it but I'm still going to put it out there because I love it. It's a piece of art," he said.
"It's probably going to sell about 100,000 copies - no more. But I'm cool with that.
"Because of the success of this record I don't have to worry so much about money and opportunities because they're going to be there."