The Ting Tings complete second 'Berlin' album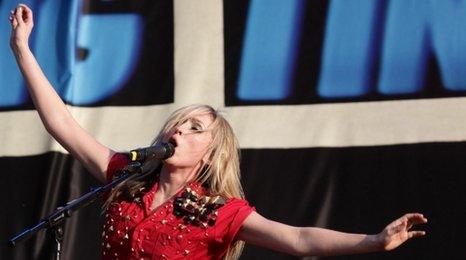 The Tings Tings have completed work on their forthcoming second album, calling it a "huge" pop record.
The Salford duo moved to Berlin in December 2009 to begin writing the follow-up to their 2008 debut We Started Nothing.
Speaking to Newsbeat lead singer Katie White said: "It's very different to the first one. It's still us and it's still pop. It's just huge."
The pair made their live comeback at this year's Wireless Festival in London.
'Cold' climate
White, along with her bandmate Jules de Martino, said their move to the German city has had a dramatic effect on the sound of their new material.
"It definitely has an impact on how you write," said White.
"Even like the weather because it was so cold when we got there at Christmas. It was like minus 25C (-13F) and just snowed for a month-and-a-half.
"You get depressed sitting in writing. All the music goes a little bit dancey or dark.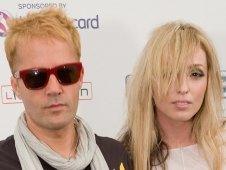 "It's just huge - the whole spectrum of it. [There is] one that's really dancey, one which sounds like a TLC song, which I love, and everything in between."
'Control freaks'
For the moment they're remaining tight-lipped about their upcoming plans - but they are beginning to book tours once again, organise videos and finalise the new album's artwork.
"What makes us us is that we do it all ourselves," says White. "We really drive.
"If you start bringing big producers in it'll totally change the way we are and what people like about us.
"We're complete control freaks - I don't think we could work with anyone else. We'd have a heart attack if they changed one little beat."
The cycle of recording in a different city for each album is an attractive idea to de Martino.
"We really enjoyed [Berlin] but we're looking for new experiences to challenge ourselves again for the third album next year or something," he said.
"It'd be good to do an album in a different city every two years."