Emma Watson: Festival queen?
If the British tabloids are to be believed, Kate Moss is now out as queen of the Glastonbury festival, replaced by Harry Potter star Emma Watson.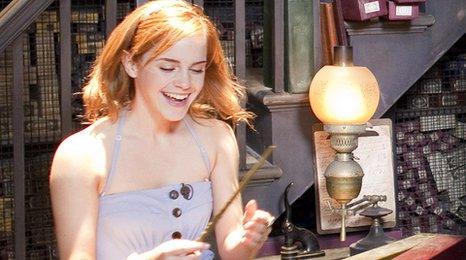 Emma, who plays Hermione in the Potter films, caused a paparazzi frenzy when she arrived at this year's event with her musician boyfriend, George Craig, from the band One Night Only.
Emma admits "it was a bit nuts" when the couple were first spotted at the weekend. "But then they just left us alone really, to go and watch the bands and it's been OK."
High-fiving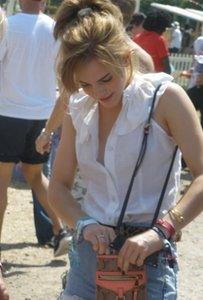 Initially Emma seemed excited at the suggestion she may have taken Kate Moss' festival crown, high-fiving her boyfriend, with George adding "I'd back that up, yeah definitely!"
But on reflection, Emma told Newsbeat "no way, she's queen, I'm not, but that's a huge compliment!"
One Night Only were not performing at Glastonbury but Emma has been watching her boyfriend on stage when she can.
"I went to see them play at Northampton at the Road Menders," she says, "it was a pretty intimate gig but it was really nice. I'm going to try and see George (when One Night Only) play at Reading (festival)."
It's only been a couple of weeks since filming ended on the final Harry Potter movie, The Deathly Hallows, which is being released in two parts.
Emma says she "needed to sleep for a week" after that, and as for who cried the most among the main trio of herself, Daniel Radcliffe and Rupert Grint, Emma admits "I'm the girl, it was obviously me wasn't it!"
Just overwhelming
Emma says she was the first to crack after the cast and crew watched a video put together by the First Assistant Director.
"He put together a behind-the-scenes film of the last 7 years of all the crew with people saying good bye and stuff.
Emma continues, "It was just overwhelming. And to finish it off he put together the unseen trailer for the new film, and it was so epic and just looked absolutely incredible and so we were all in bits really."
Harry Potter and the Deathly Hallows: Part 1 is out in the UK on November 19, but Emma's planning to take a brief break from the movie world.
She's back to Brown University in America in September and is looking at different film projects and "just trying to choose the right thing," she told Newsbeat, "but I'm excited!"