Music festivals 'are paying too much for artists'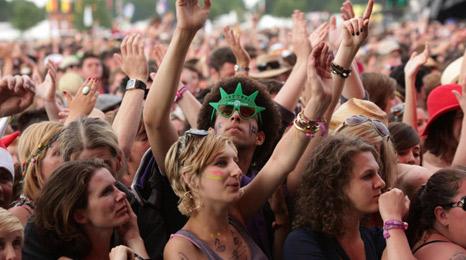 Music festival promoters are being warned to stop paying big artists so much money.
A group of organisers that represents independent music festivals in the UK and Ireland claim that if fees aren't cut, fans could suffer.
They say the money top acts are demanding to play has continued to rise despite the recession.
Last year's festivals were estimated to have brought in £130m for the UK economy.
Big bands have to get paid and get paid big money because they're the ones that are pulling in the people
Andy Copping
Download Festival promoter
Ben Turner is co-founder of the association of independent festivals (AIF) that represents the likes of Green Man, Eden Sessions, Get Loaded In The Park, Bestival, Creamfields, Evolution Festival, Field Day/Underage, Secret Garden Party and WOMAD.
He's told BBC 6 Music it's not uncommon for the biggest UK festivals to fork out more than a million pounds for a headliner, something which he says continues to rise.
"Prices for talent increases and increases and increases every single year," he said.
"I think it's something that agents, managers and artists need to be more aware of, that these festivals that they supposedly love, they need to show some support for that.
"There comes a point where a promoter has to go, 'Do you know what? I'm not going to pay that far'."
'Big money'
He says if festival bosses don't do their bit not to curb the rise, it'll see other festivals close down, meaning fans will have less choice.
Andy Copping from Live Nation paid out for Rage Against The Machine, Aerosmith and AC/DC at last weekend's Download Festival and says promoters have got no choice.
He told Newsbeat: "Big bands have to get paid and get paid big money because they're the ones that are pulling in the people.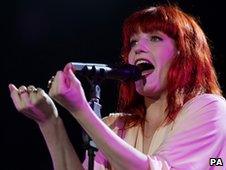 "It's always been there and it's always going to be there. The younger bands, smaller bands, only pull a certain amount of people.
"The bigger bands pull a big amount of people and they need to be remunerated for that."
As for the artists, Florence and the Machine, who's headlining Latitude Festival and playing at Glastonbury and T in the Park, are welcoming the boom.
Florence Welch from the group told 6 Music: "Live I think is still where as an artist you can make decent money.
"There's a real upsurge in people wanting to see live bands at the moment and people wanting to go to festivals.
"So promoters are willing to pay for bands to come because there's a real demand for it, which is great."
But Jay-Z, who's back on the UK festival circuit this summer, says massive artists have to earn their big cheques.
He said: "If you're putting on a high-priced ticket and you're not performing and you're not putting in on stage, then I'd be a little bit upset about that."
Listen to 6 Music news report on higher festival ticket costs and rising artist fees during the recession