Welsh rockers The Blackout start work on third album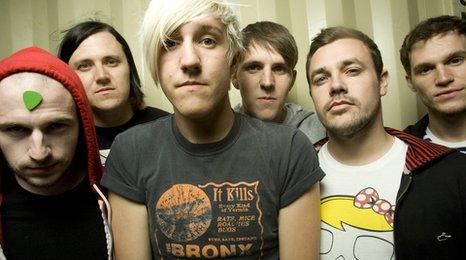 Welsh rockers The Blackout say they've started writing songs for their third full-length album.
Speaking at this year's Download Festival, the band revealed that they'd already written lots of new material and would start recording soon.
Joint lead singer Gavin Butler says the new record should be released early next year.
He said: "We were on tour for about a month with Lostprophets and then as soon as we got back, which was about two or three weeks ago, we started writing for the new album.
"Hopefully it'll be out January or February next year. We're all together jamming.
"We've all written a bunch of stuff before we started getting together, so there's a lot of material there already and it's just sifting through it now and picking the best and jamming together."
'Amazing slot'
The Blackout produced one of the performances of the Download weekend on the second stage with plenty of crowd participation.
They played tracks like It's High Tide Baby! and did a medley of songs by headliners AC/DC, Rage Against The Machine and Aerosmith.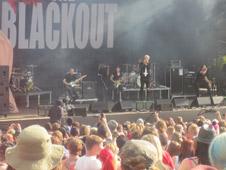 Speaking before their performance, guitarist James Davies said they were at the beginning of the recording process.
"We've demoed some stuff, really rough things," he revealed. "It's a question of getting those to our producer and then seeing what he thinks about it.
"We're basing it on the work that we're probably going to end up being in the studio September or October time. So that's the sort of time frame we think."
The Blackout, from Merthyr Tydfil, played their final performance of the year at the Download Festival before starting work on their new record.
James, who camped on site with singer Gavin, says they've had a great couple of years at Donington.
He said: "We're massively grateful to be invited back. We did the main stage last year and that was unbelievable just for the opportunity to do it.
"Then they invited us back to do this amazing slot this year."
Listen to a live acoustic performance from The Blackout on Radio 1's Rock Show from Download