Slash says Velvet Revolver 'to return' in 2011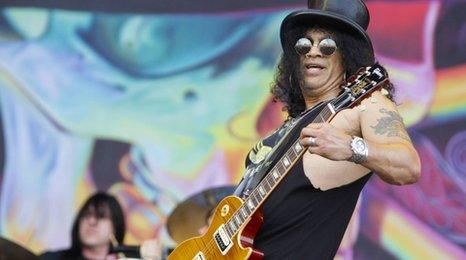 Former Guns N' Roses guitarist Slash says he hopes to get Velvet Revolver back together again early in 2011.
It's been two years since singer Scott Weiland left and returned to his original band, Stone Temple Pilots.
Bassist Duff McKagan, who played with Slash in Guns N' Roses, also joined Jane's Addiction after the group disbanded in April 2008.
Despite that, Slash says they'll start looking for a replacement vocalist when they reform next year.
Slash was speaking to Newsbeat at this year's Download Festival, where he was making his fourth appearance on the main stage with his fourth different band.
He first appeared at the festival with Guns N' Roses in 1988, when they played second on the Monsters Of Rock bill.
He then returned twice more with Slash's Snakepit (1995) and Velvet Revolver (2005).
But he says while he's at Donington he doesn't get much chance to watch the other bands.
"You try and get what you can. I'm going to jam with Motorhead tonight, so I'll get to see Motorhead."
Festivals 'fun'
During his 45-minute set, Slash played a mix of old and new playing Guns N' Roses songs like Nightrain, Sweet Child O' Mine and Paradise City as well as tracks from his self-titled album, released in March.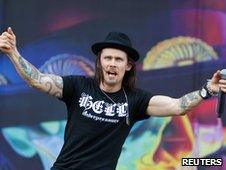 As promised, Slash also played one song (Doctor Alibi) with Lemmy from Motorhead.
The guitarist says he writes new material whenever he gets the chance.
"On the bus or in hotel rooms I start playing around with new stuff," he told Newsbeat.
"Actually a lot of the material on my new record was culminated from stuff I wrote driving around on the road in 2008/2007."
Slash has two more UK festival dates this year, at Glastonbury on 27 June and at London's Wireless Festival on 4 July with Jay-Z, Lily Allen and Friendly Fires.
"Then we have a headlining show in Manchester, which I can't wait for because that's when we get to do the full on set," he said.
"The festival gigs, we can only do 45 minutes to an hour so it's trying to squeeze a lot of material into a short amount of time.
Slash's latest record features a host of guest singers including Dave Grohl, Ozzy Osbourne and even Fergie from Black Eyed Peas.
But the main vocalist on his UK tour is Myles Kennedy, the lead singer of Alter Bridge. He also co-wrote two of the tracks on the album.
Slash says the mix of festivals and arenas is interesting.
"The cool thing about this particular tour is that it's a mix up of things," he said. "It's from arenas to festivals and some theatres.
"So it keeps you on your toes and keeps it interesting."
Listen to Download highlights and see backstage pictures with Daniel P. Carter on Radio 1's Rock Show