'Guidance' for non-prescription drugs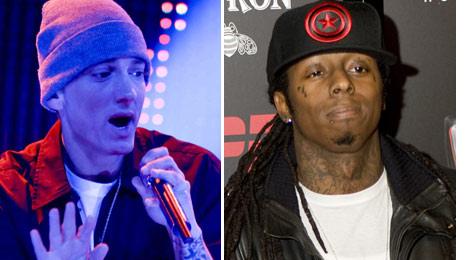 Eminem and rapper Lil Wayne have all admitted having problems with them - and some celebrity deaths have been linked to them.
Now doctors in the UK have told Newsbeat they want more training to be able to spot when people are addicted to drugs that they buy over the counter at the chemist.
The British Medical Association says it wants more guidance on the way to treat people who are dependent on these drugs.
It comes as the medicines watchdog, the Medicines and Healthcare products Regulatory Agency (MHRA) have asked manufacturers to put warning labels on the front of the boxes of strong painkillers this month.
The MHRA says there have been concerns from patient groups that more young people are becoming addicted to drugs bought at the chemist.
The warning will say "Can cause addiction. Use for three days only". And stronger warnings will also be included on the patient information leaflet inside the boxes.
It's because the pills contain codeine or dihydrocodeine - opiates from the same family as heroin and morphine.
Opiates have long been used as painkillers and codeine is an effective pain receptor inhibitor, enhancing the action of standard painkillers such as ibuprofen.
Drugs that'll carry the warning
Co-codamol
Co-codamol Effervescent
Codis 500
Cuprofen Plus
Migraleve Pink
Migraleve Yellow
Nurofen Plus
Panadol Ultra
Paracodol capsules and tablets
Paramol tablets and soluble tablets
Solpadeine Max
Solpadeine migraine ibuprofen & codeine tablets
Solpadeine Plus capsules, tablets and soluble tablets
Syndol
Veganin tablets
Olbas Powerflu coated tablets
Flucaps
The guidelines for the Royal Pharmaceutical Society of Great Britain says pharmacists and their staff must be aware of the potential for abuse of certain drugs and shouldn't supply them if there are reasonable grounds for suspecting misuse.
Dr Arun Ghosh runs the UK's only specialist treatment clinic for people addicted to both prescription drugs and drugs bought from the chemist.
He said: "They may have a problem with their back or they may have a problem with going for an exam and their mum can see that they're very anxious or their gran can see they're very anxious and they're not sleeping very well.
"So their gran will give her one of her pills. Because she thinks the GP's given it, she thinks it's very safe.
"But unfortunately it's not, it works very differently for different age groups and also you build up tolerances."
Footballers and actresses
Dr Ghosh says he's had high profile patients, including talented Premier League footballers and actresses, who've come to him for help, when they couldn't cope with their lifestyle.
The symptoms of being addicted to pills bought over the counter can include stomach cramps, sweats, shaking, headaches and becoming anxious.
"Anxiety to most people is fear", explains Dr Ghosh.
It can be the fear of the unknown. Or it can be performance anxiety - where they get up in front of a group of other people, whether that be at work or on stage
Dr Arun Ghosh, addiction specialist
"It can be the fear of the unknown. Or it can be performance anxiety - where they get up in front of a group of other people, whether that be at work or on stage, and they have an overwhelming feeling of dread."
The symptoms can be confusing and can mimic the original problem.
For example, if somebody was taking painkillers for bad headaches, and stop, the headaches could come back stronger as a result of the addiction.
Dr Ghosh adds: "Cough mixtures are a huge problem with young people starting to take them.
"Initially they may have taken it for a legitimate cough, but they find that it is addictive.
"Painkillers are another very common one that young people will take. Initially it may be for legitimate reasons, but unfortunately they continue taking them."
And he says young people are the worst for getting hooked on these drugs because of the stress of exams, puberty and stress.
"Girls are the worst for buying over the counter medication, whether it be ibuprofen or co-codamol for period pain.
"And the next thing they're taking it all month round and you're thinking 'Why are you taking it all month round?', and actually it's because they're addicted.
"You've got to remember the vast majority of people are safe on this medication.
"If you're out there on anti-depressant medication don't just stop it because you've heard it can potentially be addictive.
"If you've been taking it for legitimate reasons and you are suffering from depression you need it."
The public health minister Anne Milton said in a statement: "I remain very concerned about this issue. The department is currently reviewing all the scientific research and evidence on medicine addictions.
"Doctors need to keep up to date and we need to make sure they have the support to do that.
"It's important to never take anything which you don't know what it is. A lot of people keep old drugs - always throw them away."