Tinchy Stryder talks through Jay-Z business deal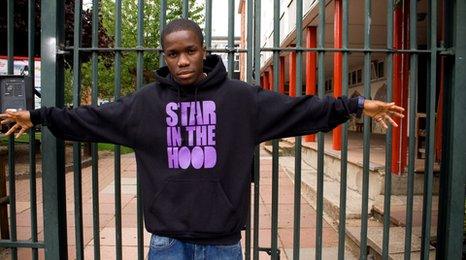 Tinchy Stryder has described the business deal he has signed with Jay-Z, announced today (9 June), as "a big thing for me".
The east London rapper, who has had two number one hits in the UK, has been outlining the new joint venture with his childhood hero.
Speaking to Newsbeat about his Takeover collaboration with Roc Nation he said: "When I started there's nothing like this I could have seen coming - it feels great.
"It's all really exciting because they understand where we come from. They can relate to how they were at the start."
'Made sense'
The contract sees Tinchy's management company Takeover Entertainment and Jay-Z's team Roc Nation begin a new project - aimed at breaking new talent.
"I've got my ears open. There's always something new around, you've just got to find out what's right and how it's going to work," outlines Tinchy.
"When it started we went over there [the US] a few times for a few meetings and they come over here.
"Everything just made sense. It wasn't quick. It was well thought out and we went through the deals.
"When you get along with someone away from music as well, you can just know that relationship is correct and right. Simple as that."
Meeting Beyonce
Although the deal was announced today, Tinchy sealed the contract when he met Jigga in Manchester on Monday where the Brooklyn star was kicking off his latest UK tour.
"He's just such a cool guy, he's so humble," added Tinchy.
"The way he explains things to you it just makes so much sense. He's been in the game so long, he's educated in the smallest little things."
Jay-Z's wife Beyonce was also there when the pair spent time together earlier in the week.
"Just chilling in the dressing room," he notes.
"She's cool as well - down to earth. She really appreciates music as well."
While the Roc Nation Takeover venture is principally a business venture Tinchy isn't ruling out the possibility of the two collaborating musically at some point too.
"I'd love to do a track with Jay-Z but it was more on a business vibe that we've come together. We're going to get that building first."