Introducing...Frankie and the Heartstrings
Calypso cocktails, tourist bus routes and phone calls on stage from his boss - ex-pub land lord Frankie leads these north-east indie hopefuls.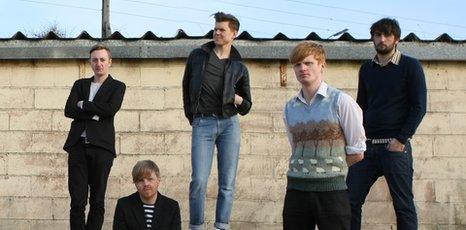 Frankie and the Heartstrings have a vision. A tongue-in-cheek vision, but a vision nonetheless.
"Maybe we'll be able to do an open-top bus tour of all the places we've recorded our album," says guitarist and song writer Michael McKnight.
He puts on a tourist guide's voice: "'That dustbin over there - that's where we did the vocals'."
Right, now Frankie's tourist tours of their native north-east might seem like a distant dream, and their Renault Scenic will have to do, but they've started by taking steps in the right direction.
Calypso cocktails
Their first pin-prick on the musical map came 18 months ago when they formed in a Sunderland pub.
Frankie Francis - he with the Heartstrings - had left university and taken up a job as landlord, organising theme nights in the bar.
"Frankie and I went to college together but we decided to start the band at this calypso night," says Michael. "We were just talking about The Housemartins and The Smiths."
A few cocktails later and they had a band.
Well, the seeds of a band.
Frankie started out on bass with Michael singing and playing guitar.
"He was so terrible at playing the bass," laughs Michael, glancing at his band mate. "I didn't want to tell him. The only way I could coax him off it was to say, 'You're a good looking boy, why don't you be the singer'."
Frankie obliged. "He didn't take any persuading", notes Michael.
Home town
Once everyone was settled into place - they're joined in the band by Dennis Mennis, Dave Harper and Pete Gofton - they used the pub as their HQ to toss their initial ideas into the mix.
"It was involved in the Sunderland music scene," says Frankie of the venue. "It was a chance to make a different in a town - where not many people can."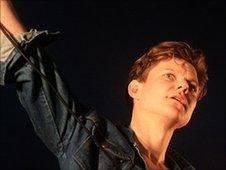 Rocket down the line to now and the fivesome have released their debut EP and gone on tour with one of the UK's biggest acts, Florence and the Machine.
It was a peek into a world they've never been part of before.
"It was amazing and easy at the same time," says a confident Frankie. "We all find it easier playing in front of a lot more people because it's less impersonal.
"It was nice to get a taste of where we would like to be ourselves one day."
Michael's a bit more measured about their rapid rise.
"If it all stopped tomorrow I'd die a happy man - what we've done in the last year has just been amazing. It'd be great to keep it going as long as possible."
Indeed, we catch up with them hours before the indie-fivesome play their debut London headline gig and they don't appear to have any problems seducing a large crowd.
If it all stopped tomorrow I'd die a happy man - what we've done in the last year has just been amazing. It'd be great to keep it going as long as possible
Michael xxx, Frankie and the Heartstrings
"That first Florence gig - we all had full time jobs," says Michael. "The first one we did was at [London's] Shepherds Bush Empire.
"As we were unpacking our stuff Kate Moss was getting out of a limousine.
Frankie laughs: "My boss rang us and we were sound checking on stage. He was like 'How's it gone today?' I was like, 'Yeah really well'."
Bus tour
Next stop for Frankie and the Heartstrings though are the summer festivals - another step up. Followed by sessions to finish their debut album.
"We want to be very proud of it - we're going to take as much time as we can," says Frankie, plotting an early 2010 release for the LP with James Ford on mixing duties.
"We're just doing in our space, around people's houses, in friends' rehearsal rooms…." notes Michael.
"In the attic of a nightclub, in a disused lorry transport unit on the key side in Gateshead," adds Frankie.
Suddenly, the idea of Frankie's Bus Tours doesn't seem that far away at all.