Slipknot say emotional goodbye to bassist Paul Gray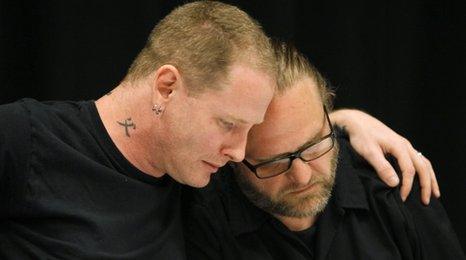 The eight remaining members of Slipknot called bassist Paul Gray "a man with a big heart" who represented everything they loved about their band.
One of the founding members of the US metal group, Paul Gray was found dead in a US hotel room on Monday (23 May).
Slipknot made a rare appearance without their trademark masks to remember him at a news conference.
They were joined by Paul Gray's pregnant wife, Brenna, who said their unborn daughter would grow up knowing the legacy he'd left behind.
She said: "Paul was my husband, an amazing person, and I want people to remember him for just that. And his daughter will remember him for the way he was."
'Biggest heart'
Paul Gray's body was found by a hotel worker in Des Moines, Iowa.
It's still unclear how the 38-year-old died but police say they're not treating his death as suspicious.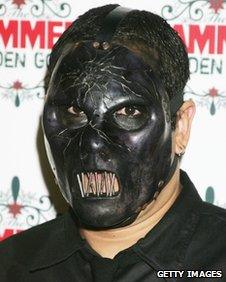 The band, who won a Grammy music award in 2006 for their song Before I Forget, are on a year-long break from music.
Lead singer Corey Taylor said they'd remember their friend "with love".
He said: "We lost our brother and the world seems a little smaller because of it.
"He had the biggest heart of anyone I've ever known. The only way I can sum up Paul Gray is love."
Slipknot's last studio album, All Hope Is Gone, debuted at number one in the US Billboard charts in 2008.
The band also picked up two awards at last year's Kerrang! magazine awards after headlining the Saturday night at last summer's Download Festival.
Their debut album in 1999 sold more than two million copies.