The girl who's banned from buying booze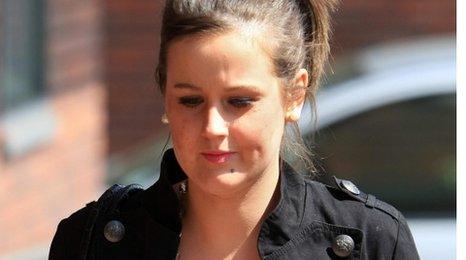 She's been called everything from a menace to a hellraiser. She's been followed around by camera crews, the tabloid press and groups have been started about her on Facebook.
Laura Hall from Bromsgrove in the Midlands is not the latest X Factor wannabe or a World Cup WAG.
The 20-year-old is famous for being the first person to be banned from buying alcohol anywhere in England and Wales.
"I am terrible when I've had a drink," she told Newsbeat.
"Alcohol is my best friend and my worst enemy."
Laura had a lot going for her when she left school in 2006; a good group of friends, a supportive family and a batch of GCSEs.
Five years later she's had just one real job as a shop assistant.
It fell through and she's still living in her parents' large detached house outside Birmingham and claiming unemployment benefit.
"I would never dream of going out for the evening without a drink," she said.
"The first time I got arrested I was drinking down the park with my friends when a policeman came over and took the alcohol off us.
"We saw him later in the night and nicked his helmet from the police car."
Since then she has been arrested dozens of times for alcohol-related offences and spent time in a young offenders centre in Bristol.
'Can't go on'
In April a judge, frustrated at Laura's 25th appearance in court, gave her the UK's first Drinking Banning Order.
"You are going to drink yourself to death before long," he said at the time. "You can't go on behaving like this in public."
I am getting help on probation and I really want to try Alcoholics Anonymous again. It makes me feel really guilty
Drinking Banning Orders, or Booze Asbos as they are nicknamed by the tabloid press, were brought in by the old Labour government last year.
If Laura buys alcohol from any bar, club or off licence in England and Wales, or carries open bottles around on the street she is now breaking the law.
Not that the ban has really curbed Laura's drinking. She spent last weekend in custody after knocking back vodka, lying in the middle of the road and abusing the police and ambulance staff who came to help her.
'Getting help'
"I think it has made me cut down a bit but it hasn't stopped me," she said.
"Something absolutely major would have to happen to make me give up."
Laura now admits she needs help. There's talk of rehab paid for by a tabloid newspaper or by the camera crew which is now following her about for a television documentary.
"I am getting help on probation and I really want to try Alcoholics Anonymous again," she said.
"It makes me feel really guilty. I have put alcohol before everything and everybody in my life."
But with Laura's 21st birthday just a few weeks away there is little of chance of her quitting just yet. She is already planning a trip away to Crete with her mates next month.
"I am going on holiday and, I'm not going to lie, it's not going to be an orange juice holiday," she said.
"But it's not going to be a massive bender, it's going to be one night out and the rest of it will be a quiet holiday.
"And after that I'm going to get serious."