Cheryl Cole plays Radio 1's Big Weekend in Bangor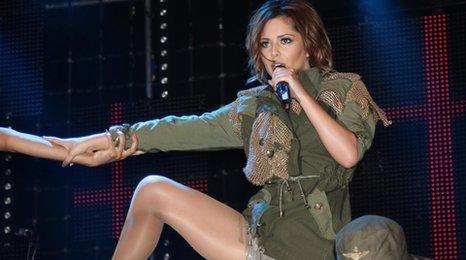 Cheryl Cole has attracted the biggest crowd of the day so far with her performance at Radio 1's Big Weekend in Bangor, north Wales.
The Girls Aloud star took to the stage at 4.15pm and played a 25-minute set.
Speaking from the stage she said: "What a fantastic crowd we've got here today. Is everybody ready to have fun?"
Her set included singles Fight For This Love, Parachutes and a cover a Owl City's Fireflies, which she first debuted in Radio 1's Live Lounge.
Before playing 3 Words Cole, wearing a khaki army dress and silver aviator sunglasses, said: ''Everybody that's in love in here today I want you to turn to your partner and sing this one."
Speaking after the star came off stage fans seemed positive about her performance.
Chelsea from Caernarfon said: "She's an amazing singer and dancer. The best thing I've seen so far."
Clare from Bangor added: "Fantastic, brilliant, beautiful. Everyone loved her. My favourite was Fight For This Love."
Watch all the action live from Radio 1's Big Weekend 2010
Bieber screams
Earlier Scouting For Girls kicked off the first day of the festival with a half-hour set which included She's So Lovely and a cover of Journey's Don't Stop Believin'.
Speaking to Newsbeat after coming off stage lead singer Roy Stride said: "That went down a storm. It always does - it was an amazing show.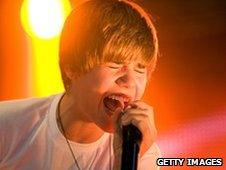 Since then the main stage has seen appearances from American metal-pop band 30 Seconds To Mars, Chipmunk and Justin Bieber.
Earlier in the day, when Bieber's name was called by announcers, he was booed.
However, there was no sign of naysayers during the 16-year-old's 10-minute main stage set almost drowned out by teenage screams.
Among those still to come out at Vaynol Estate on Saturday are Alicia Keys, Dizzee Rascal and Florence & the Machine.
Sunday's line-up features the likes of Rihanna, Biffy Clyro, Pixie Lott and Vampire Weekend.
Big Weekend is Europe's biggest free festival and will see more than 60 artists play to 40,000 fans over the two days.