Gates open at Radio 1's Big Weekend in Bangor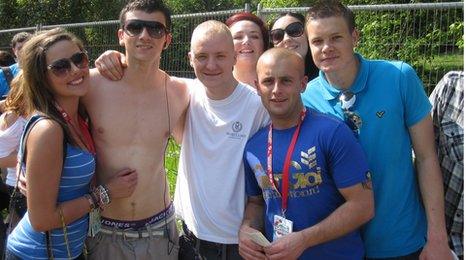 Scouting For Girls have kicked off the first day of this year's Radio 1 Big Weekend in Bangor, north Wales.
Opening a day of live performances on the main stage the band, introduced by Radio 1 DJ Chris Moyles, started with She's So Lovely.
Cheryl Cole, Dizzee Rascal, Justin Bieber, Alicia Keys and headliner Florence & the Machine are among the other artists due to perform.
Europe's biggest free festival will see more than 60 artists play.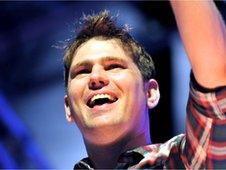 40,000 fans (20,000 each day) will be watching across four stages over two days.
Watch all the action live from Radio 1's Big Weekend 2010
Fans were queuing outside the festival many hours before the gates were officially opened live on air.
Waiting to get on site Tom, 18, from Conwy said: "I can't wait for Dizzee Rascal tonight. I'm looking forward to seeing all the DJ sets too."
Shannon and Ebony, both 17, have travelled from Wiltshire and said: "We went last year in Swindon and managed to get lucky again. We can't wait to see Florence & the Machine later - she's amazing."
Kelly, 19, from Llandudno, said: "Florence is going to be the highlight I reckon. I'm hoping she's going to do You've Got The Dirtee Love with Dizzee Rascal."
Tinie 'excited'
Drenched in sun, and set against the backdrop of Mount Snowdon, temperatures are estimated to reach 25C (77F) during the afternoon.
Opening the main stage, a huge blue big-top tent, Chris Moyles said: "Congratulations on getting tickets - well done. It's going to be an amazing day."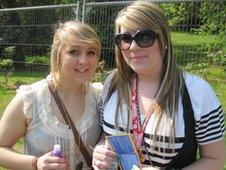 Speaking before playing the In New Music We Trust stage Tinie Tempah, who recently went to number one with his track Pass Out, said: "I'm more excited than anything.
"I've been looking at the line-up and I'm pretty excited about all the people that are around me.
"I'm just happy that I've got an opportunity to showcase my album at such a large, well-promoted event.
"We've practised for a real long time and have something special lined up."
Last year's Big Weekend, held in Swindon, was headlined by Snow Patrol and The Prodigy.
In previous years the event has also visited Maidstone, Dundee and Preston.