Muse on 'break-up' Twilight song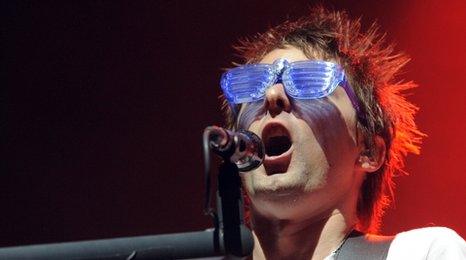 Muse lead singer Matt Bellamy has explained how their new song, appearing on the forthcoming The Twilight Saga: Eclipse soundtrack, is about the recent "break-up" with his girlfriend.
Speaking to Radio 1's Zane Lowe about the song, Neutron Star Collision (Love Is Forever), he said: "It was a song looking right back on that moment that you first get with someone and everything feels like its going to go on forever."
He also revealed details of Muse's elaborate stage plans for their forthcoming worldwide stadium tour.
Informed by George Orwell's novel 1984, the production will feature an "an all seeing eye" pyramid structure and a "chrome UFO".
Twilight invitation
The soundtrack for the third instalment of the vampire movie franchise, released on 8 June, will also feature tracks from Vampire Weekend, Florence and the Machine and The Dead Weather.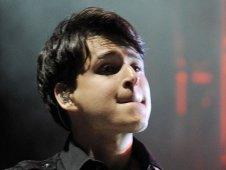 Speaking about their contribution Bellamy explained that he wanted fans to hear the track now whilst its subject matter still felt "relevant".
He said: "I broke up with my girlfriend - it must have been about 8 months ago or something. I basically wrote that song pretty much immediately after that.
"The Twilight people contacted us and were very keen to get a song for their film and I thought 'Why not?'.
"I might as well just bung it in there and get it out there because this song represents a bit of a difficult period for me in my life. It's the kind of song that by the time we get to the next album might not be relevant any more. My life might have changed and moved on. It's kind of like a cheesy love sentiment I suppose.
"When I wrote the song, it was quite a heavy thing."
Summer tour
The trio, who released their fifth album The Resistance in 2009, are set to play a string of huge stadium, gigs this summer including dates at London's Wembley Stadium and Lancashire County Cricket ground.
Bellamy said the shows will feature a brand new set including a "very futuristic pyramid-shaped office building".
He added: "From the front the whole thing looks like this gigantic…you know the all seeing eye with a big eye-ball on top? It basically looks like that.
"It's supposed to be a cross between that and George Orwell's ministry from 1984 - we've got a chrome UFO."
Joking about the band's over-the-top nature Bellamy said: "We're totally gone these days - I don't know quite how we got to this point. I'm just going to go with it."