Glee actor 'blown away' by support over gay comments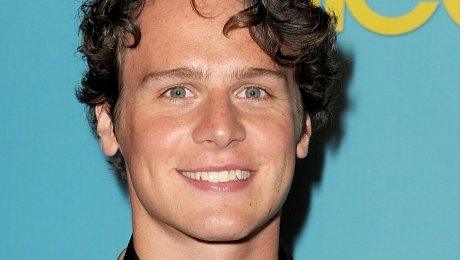 Jonathan Groff, who plays Jesse St James in the hit show Glee, says he appreciates the support he's received after criticism in an article which suggested gay actors cannot play straight roles.
The comments were made in Newsweek magazine by gay writer Ramin Setoodeh who said Jonathan's performance "feels off", adding: "He scowls - is that a substitute for being straight?"
Glee's creator Ryan Murphy wanted fans to boycott the magazine after the article, which also described Will and Grace star Sean Hayes' Broadway performance in a heterosexual lead as "insincere" and "unintentionally camp".
Jonathan told Newsbeat: "I do totally appreciate all of the support and love that has been shown from all of these people that are speaking up in support of actors of all shapes and sizes and sexualities playing all different roles because we're actors.
"I'm totally blown away and love all of the support and love that has been shown."
Mr Setoodeh said his article was intended to start a debate and that his words had been "twisted".
'So kind'
Jonathan, who was already a star of Broadway musicals before he joined Glee, arrived as Rachel's love interest after the drama had already notched up a considerable fan base.
He said: "They had a lot of success happen to them early on with those first 13 episodes and the show had sort of exploded by the time I came in to do my thing with them, so I didn't know what to expect in terms of cliques and egos and drama.
"The truth of the matter is they're so open and so kind and so embracing and so hard working and I had a total blast with all of them. They're really great.
It's sort of like one of the ultimate things as an actor getting to do a play on the West End
Jonathan Groff, Glee cast member
"They spend a lot of time with each other and still manage to enjoy each other's company and continue to love doing their work which was really inspiring for me to watch."
The actor has just finished filming the show in LA and took a road trip on the California coast before returning to New York.
The rest of the cast are also hitting the road but with a live version of the show, which takes in places like Phoenix, Chicago and New York.
But Jonathan has already set his sights on a six month stint in the UK where he's coming to star in a play called Death Trap.
He said the opportunity meant a lot to him: "It's sort of like one of the ultimate things as an actor getting to do a play on the West End... it's something that really is special to my heart and means a lot to me."
Celebrity cameos
As for the future of Glee, speculation has been rife about which celebrities might end up doing guest appearances after the much-talked about Madonna special.
Neil Patrick Harris and Olivia Newton John have already been on the show and Britney Spears is even rumoured to be keen to appear.
But Jonathan couldn't shed any more light on the subject. He said: "It's so funny because I'd not even heard the rumours about Britney Spears.
"These writers could make anything work so if it's an episode with Britney Spears I'm sure they'll make it great."
The makers of the show have already released three official albums, including a mini-album of Madonna covers, something which Jonathan says is great for the original artists.
"Sometimes when the songs are sung on the show the original version of the songs again gain popularity and awareness from people who didn't know them before or who want to revisit them again," he said.
"So I think it's probably good for the artists now as the show is so popular, which is so cool."