'Professional resellers' target fans market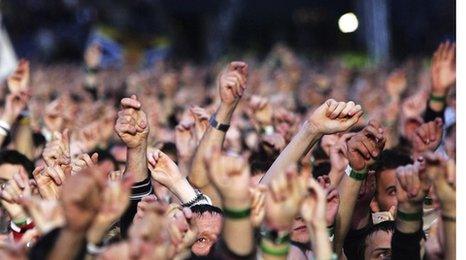 The three largest secondary ticket agents in the UK, otherwise known as fan-to-fan ticket exchanges, have told Newsbeat that they have "professional re-sellers" operating on their sites.
These sites, which were set up in order for users to securely buy and sell on tickets for live events, confirm there are professionals using their sites to make money.
Seatwave said they had users "professionally" making a "sideline income", whilst GetMeIn, owned by primary ticketing agent Ticketmaster, said their sales were "roughly split" between fans and professional re-sellers.
Viagogo, the UK's biggest secondary ticket website, said the "overall majority is fans selling tickets to other fans".
The secondary ticket market is estimated to be worth £800 million a year.
Buying a ticket to a live event and re-selling it online for more than its face value is not illegal - but it could leave some genuine fans paying inflated prices for high demand events as sellers set the prices.
'We don't think it's wrong'
Speaking to Newsbeat, Seatwave's co-founder and CEO Joe Cohen said: "I don't know that you could define them as not being fans of music - they may be a fan but they may also be doing it professionally."
He added: "There's a whole bunch of different cases of people using our site to sell tickets.
"There's been quite a bit of propaganda, particularly coming from promoters in this industry, who would somehow like to make the argument that selling a concert ticket and making money off of it is wrong - we don't think it's wrong."
We have no way of really knowing what someone's intention is. We don't know, by virtue of you registering, how much you're going to sell
Andrew Blachman, general manager of GetMeIn
However, the secondary market is currently unregulated. Following a period of consultation the government chose not to legislate at the beginning of 2010.
"We don't do background checks for example on anyone who is trading on our site," said Cohen.
Speaking to Newsbeat a spokesperson for Seatwave explained that 60% of the people operating on their site are "consumer sellers", leaving 40% of transactions directly between one fan to another for a one-off event they cannot attend.
"We don't know what companies they have or not have. We collect information that's pertinent to their sale on the market place," said Cohen.
"We don't police the volumes people sell."
'Not deceiving fans'
GetMeIn, bought by the world's biggest primary ticket agent Ticketmaster in 2008, confirmed there was "probably north of a couple of hundred thousand tickets" on the site at the moment.
Estimating the type of people using his site general manager Andrew Blachman said: "We think it's a roughly even split [between fans and professional resellers] for a lot of events.
"We have no way of really knowing what someone's intention is. We don't know, by virtue of you registering, how much you're going to sell.
"People we remove from our site are not because they're selling a lot of tickets - it's because they're providing a poor experience to the buyers on our site. "
All three sites say they provide a secure platform for fans to buy real tickets. They do this by holding the seller's money until the live event takes place.
"Some people like to complain about professional resellers when they see tickets out there being sold at high prices," added Blachman.
"On the flip-side we saw a lot of events this week where we saw professional resellers losing a ton of money and had to sell tickets way below face value - nobody really complains at that point.
"Some people would say they do a good service, they provide consumers with value - but at the end of the day they're out there."
When a customer buys a ticket from all three of the sites the seller's details are not disclosed to them - meaning they could unknowingly be buying from a commercial seller.
Blachman says his site is not deceiving any fans by doing this.
"I don't know if we've ever used that word the 'fan-to-fan' market place," he says. "But we are a market place that fans use to both buy and sell tickets."