Review: Rihanna plays London gig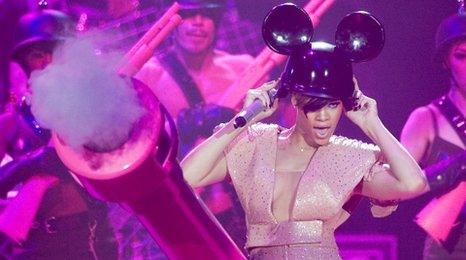 Rihanna straddled a florescent pink tank, gyrated with crash test dummies and danced beneath giant spiders on stilts as her UK tour arrived in London on Monday night (10 May).
The 22-year-old star wore a floor-length black dress with red flashing lights on it to kick off the show at the capital's 02 Arena, which began with last year's single, Russian Roulette.
She went on to perform a 22-song set that included her own drum solo and a cover of vintage Oasis track Wonderwall.
A montage of video clips and photos of the singer accompanied a recording of her 2005 hit Pon Da Replay, while Rihanna completed one of seven costume changes that took place throughout the gig.
The concert was the Barbadian singer's third date since starting the UK leg of her Last Girl on Earth tour in Birmingham on Friday.
She is due to play nine more UK dates this month including Nottingham, Glasgow and Belfast.
The tour supports her fourth studio album, Rated R.
Cover songs
Rihanna slipped on stage just before performing her forthcoming single , Te Amo, but recovered to deliver flawless vocals surrounded by aerial acrobats.
She dedicated Take a Bow to "all the ladies in the house", which was about 90% of the audience at the 22,000 capacity venue.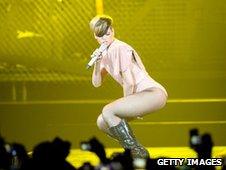 Picking up the pace for Live Your Life, her dance routine included numerous jerky head movements, causing the star's famous fringe to cover her eyes for most of the track.
Several fans were overheard plotting to offer her their alice bands.
Tinchy Stryder provided support, followed by Pixie Lott who wore thigh-high black boots and a black dress with gold stars on it for her set which included hits Boys And Girls and Mama Do (Uh Oh Uh Oh).
She also performed a mini-mix of covers including Kings of Leon's Use Somebody and The Killers When You Were Young.
Speaking afterwards most of the audience appeared impressed with the show.
Alex Dance, 24, from Leicestershire said: "Amazing costumes, amazing videos, amazing vocals. I am a Rihanna fan but I just didn't realise how many huge hits she'd had until I heard them all together. Loved the Oasis cover, too."
The gig ended with the star's biggest hit to date, Umbrella, which managed to hold the number one spot for 10 weeks in 2007.
There was no need for waterproofs inside the domed venue, but the night came to a close with huge cloud of fluttering red ticker tape.
Rihanna's set list...
Russian Roulette
Hard
Shut Up And Drive
Fire Bomb
Disturbia
Wonderwall
Rockstar 101
Rude Boy
Hate That I Love You
Rehab
Unfaithful
Stupid In Love
Te Amo
Please Don't Stop The Music
Breaking Dishes/The Glamorous Life
Let Me
SOS
Take A Bow
Wait Your Turn
Live Your Life
Run This Town
Umbrella