Apple 'sells 1m iPads in a month'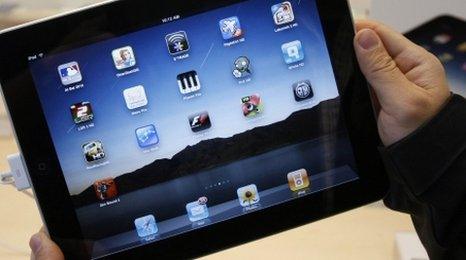 Just four weeks after release Apple has announced it has sold one million iPads.
Helped by a massive amount of hype ahead of launch day on 3 April this latest set of figures mean it's selling faster than the iPhone did when it was released.
Apple CEO Steve Jobs said: "One million iPads in 28 days - that's less than half the 74 days it took to achieve this milestone with the iPhone".
Users have also downloaded around 12 million applications, or apps, to use on the device as well as 1.5 million digital books to read on its 9.7 inch colour touchscreen.
This figure was helped by the second stage of a two part roll out of the tablet computer on Friday (30 April) when Apple released the more expensive 3G version.
But this success has come at a commercial cost.
Tablet PC market
The worldwide release of the iPad has had to be delayed until the end of May because of demand in America.
Also, its success has helped develop the tablet PC market - which will lead to greater competition from other areas.
In a statement computer manufacturer HP told Newsbeat: "We believe you will see a number of [tablet] devices in 2010.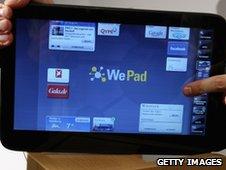 "With that in mind, we believe there is still a gap to be filled between smartphones with screens around 10cm and notebooks.
"The challenge will be to create the right size type of device and overcome some of the traditional PC barriers."
Pressed on when that means consumers can expect a big release from HP, its spokesperson would only confirm "sometime this year".
Other manufacturers are also looking to capitalise on Apple's success.
There are reports Dell, Nokia and Toshiba are expected to launch their own tablet PCs later this year.
A Toshiba spokesperson said it's "studying the slate PC market as a possible business domain".
Pushed on whether or not that meant consumers should expect something from Toshiba to compete with the iPad, the spokesperson would only say "we can't provide any further details for now".
Then there are the smaller companies hoping to take a slice of the tablet PC market.
German company Neofonie has unveiled an early version of its WePad which has a bigger screen at 11.6 inches and is expected to go on sale this summer.