Football targeted by main parties during election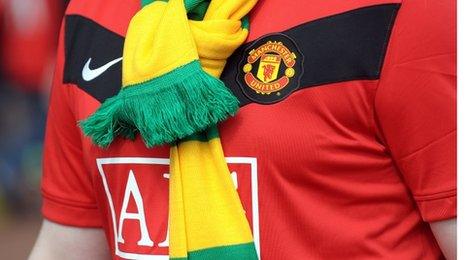 As well as the usual promises about saving the economy and securing the future of the NHS, politicians are also making promises to football supporters at this election to try to win their vote.
It comes after months of high profile protests led by Manchester United supporters calling for changes to the way their club is run.
The American family, the Glazers, took control at Old Trafford back in 2005.
Anger intensified against them earlier this season with reports United had debts of more than £700 million.
Duncan Drasdo, chief executive of the Manchester United Supporters' Trust, is one of those who has led the campaign for changes to the rules in how clubs are run.
He said: "We're not talking about supporters running clubs. We're talking about supporters owning a significant stake in the club which gives them some influence rather than power."
Now the politicians have started listening.
Party promises
In their manifesto, the Labour Party has promised to give a supporters' trust the option to intervene and buy a stake in a club at any time.
It's possible with this policy that supporters could hold as much as a 25% stake in their club and significantly increase their influence over how the club is run.
If you look at the economy and you look at the economy of Manchester, without Manchester United being a successful club, the economy of Manchester would fall. It's as simple as that
Alan, 26, Manchester United season ticket holder
The party say they want to stop situations where a club is sold from owner to owner without the fans having a say.
The Conservative Party say they also favour the idea of supporters having a greater influence on what goes on at their club.
The main difference between their policy and Labour's is they believe fans should only be able to buy a stake in the club when it is either up for sale or if the club enters administration.
They're against the idea of a trust being able to intervene and buy a stake at any time because they say it will put off other potential investors.
The Liberal Democrats say supporter ownership may be an attractive idea but is nothing more than just a pipe dream for most fans.
Instead they're calling for a "radical overhaul" of the FA to give more help to fans and pressurise clubs to provide cheaper tickets and safe standing areas.
Arguments over the ownership and future of football clubs is not usually an issue discussed among politicians at election time but with polls suggesting the voting could be very tight, the big parties know there is a lot to gain from winning favour with thousands of football fans.
Club ownership
Football will never rank alongside the economic recovery or education as one of the most serious election issues but there are plenty of supporters who are pleased it's gaining some prominence.
Alan's 26 and has a season ticket at Old Trafford.
He said: "It does matter because if you look at the economy and you look at the economy of Manchester, without Manchester United being a successful club, the economy of Manchester would fall. It's as simple as that."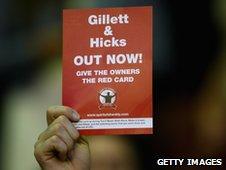 The issue of club ownership and football finances was thrust further into the spotlight this season due to the problems of Portsmouth FC.
The club, who've had four owners this season alone, became the first Premier League outfit to enter administration.
They were docked points and relegated to the Championship.
Fans of Liverpool FC have also led a high profile campaign to change the ownership of their club.
They've accused current owners George Gillett and Tom Hicks of putting profit before the interests of the team and saddling the club with huge debts.
Michael Pollard is a big Liverpool fan. He said: "They're destroying the heart of Liverpool. Liverpool and Everton football clubs are the heart and souls of this city.
"And us as supporters we love the game, we love supporting where we come from, we love that badge."