Introducing... Dam Mantle
The Glasgow-based night-fox works alone - and makes some of the most exciting beats of the moment.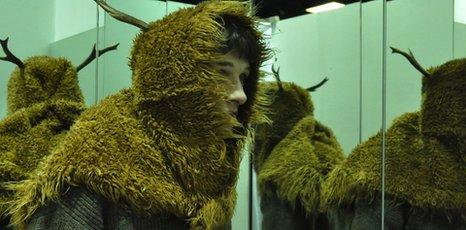 As far as we can tell, Tom Marshallsay isn't a massive peoples' person.
That's not to say he isn't a very pleasant, social guy but like a night predator he works best alone.
"My favourite reason from leaving the house is to go and buy records," he says nervously.
"Just buying records in charity shops - that's how I spent most of my Saturdays."
'Losing faith'
The rest of the time you're likely to find Marshall - he goes under the name Dam Mantle - slaving over a hot hard-drive mixing his intense brew of hip hop and electronica.
The room you'll find him doing this in is in Glasgow, the city where he's studying a fine art degree.
Before that he grew up in Kent before "losing faith in academia at school". His impulse was always to create. Be it art, music or technology.
"I wanted to make stuff, and that's what I'm best at," he shrugs.
After playing in a band which played Led Zeppelin covers and pursuing a solo acoustic project called Animals And War he decided it was time for a fresh start. Dam Mantle was born.
"The old projects feel like my former self in a way, this is a new beast."
Bedroom producer
This was only five months ago, at the end of 2009. He would go it alone and begin experimenting with samples, tweaking noise and boiling his own sound.
"When I can make something at the best of my ability it's on my own," says Marshallsay.
"Isolation really is where it comes from - late nights, staying up overnight being surrounded by what I love.
In summer I'm planning to go away and do an album or something. Something will manifest at some point
Dam Mantle aka Tom Marshallsay
"Fiddling and being dazed - getting involved in a tiny piece of sound and folding it out into something.
"I guess I could be considered a bedroom producer."
These beats have made their way out of his bedroom and pricked up a lot of ears. Indeed, he's been heralded as part of Glasgow's burgeoning experimental dance scene alongside Hudson Mohawke, Mike Slott and American Men.
"I keep my head in the sand a bit," he says coyly.
"There's a lot of noise bands in Glasgow, psyche and guitar based music. It inevitably becomes an amalgamation of those two scenes."
For the moment though he's just happy to continue what he's doing. And doing so well.
"I'm trying to gap between this music project and the videos I make. At some point they'll cross over.
"In summer I'm planning to go away and do an album or something. Something will manifest at some point."
The Grey EP was released last month.