'Recording descended into chaos'
Laying to rest their demons, obsessing over a bugle and using their battered tour van as a drum kit - the Manchester band Everything Everything ready their debut LP.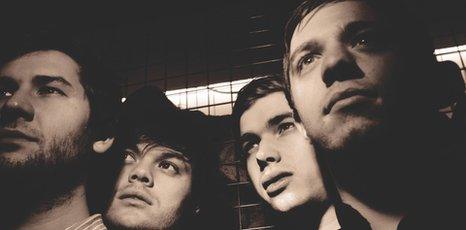 Listen to Manchester's Everything Everything talk about the recording of their debut album and it sounds more like a holiday than a workmanlike recording process.
Each day started with a hearty breakfast at 10am at their farmhouse HQ in Bryn Derwen, Wales ("there were no women for miles around - which did us good," says bassist Jeremy), maybe a walk after lunch before recording commenced.
Whilst that sounds very sensible, the three out of four members of EE (drummer Mike is parking the van) squished on a sofa in their north London practice room, can't recall the experience without laughing.
Its a wonder they got an album recorded at all.
Bugle use
Headmasters amongst all their larking about were producer David Kosten and engineer David Wench.
"If David [Kosten] wanted to get David [Wench] to take over recording he'd pick up this bugle and go do do do - that'd be the call," begins Jeremy.
"David Wrench is this 6 foot 4 Frankenstein and he'd go: 'Did you call me David?'"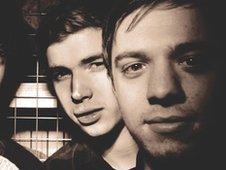 "We started abusing the bugle in the end," says lead singer Jonathan. "It started to lose its effectiveness."
And the bugle wasn't the only unplanned instrument to eventually appear on the tracks they were recording.
"Our now famous van made it onto the record because we just played it like a drum kit," says Jeremy.
"We also played some sheets of corrugated and a ladder and a big oil tanker thing which was used to heat the complex."
The van they reference is the clapped-out set of wheels parked outside today, a potent smelling vehicle held together by gaffer-tape. Everything Everything's ever-faithful chariot.
"She's succumbing to dementia so we had to immortalise her on record," says Jeremy with mischievous sadness in his voice. "She's definitely a she, and she's very temperamental."
"You can't hear anything, you can't move, you can't taste, you can't talk to each other, it takes ages to get anywhere," says Jon recalling journeys in the van. "If you listen to music in it you've got to turn it so loud that you get out and your ears are ringing."
It was good to exorcise the demons in a way, we've been living with these songs, some of them for two years
Jeremy, Everything Everything
'Chaotic' sound
So what were EE doing when they weren't prating around with a bugle or immortalising their van on record before it finally fails the MOT?
They all swap glances. "That's the sound of the album really - a descent into chaos."
Contrary to their stories, some work did get done in Wales. The result is their as yet untitled album, due for release in August.
The newest track of which Schoolin' - a brilliant slice of inventive pop, complete with stop/start whistling - received its premiere this week (27 April).
Jonathan explains: "It's about learning lessons from life. Learning to evolve as a species.
"I've been thinking a lot about how you can't see the stars from the places that we live now and what affect that has now, if any."
It is damatically different the tracks they've released so far (last year's MY KZ UR BF and Photoshop Handsome - both of which are included on the album).
"We don't ever reproduce one sound," says Jeremy. "It's not because we try to, we just don't.
"Interpol a band we love, but all their songs sound the same," adds Jon. "The Strokes are amazing but all their songs sound the same."
Jeremy: "We can't help it, we're still very scattered."
No achilles
Fans will be able to hear this "intense and complex" album later this summer.
"We're very likely to have 11 tracks on there - there's certainly no Achilles heels," says Jon.
"It was good to exorcise the demons in a way, we've been living with these songs, some of them for two years," says Jeremy, finally with a straight face.
"It was a mixture of finally laying a few things to rest but also thinking on our feet with new stuff."
Schoolin' is released on 14 June