What next after mephedrone ban?
Could 'Not for Human Consumption' become one of the slogans of 2010?
Those words stuck on small packets of white powder have triggered resignations, accusations and hundreds of headlines since the start of the year.
Mephedrone, not to be confused with Methadone, first broke out of the shady world of internet 'research chemicals' in the summer of 2009. Then it was a "legal high", now it's outlawed as a Class B drug.
Plant feeder
Drug forums talked about a new substance a bit like cocaine and ecstasy but legal to buy and sell, so long as it was marketed as bath salts or plant feeder.
Six months later that drug was the subject of everything from newspaper front pages to emergency questions in the House of Commons. What is mephedrone?
So with a ban in place the question now is what happens next. Will the websites selling mephedrone just shut up shop? Or will they switch to new legal highs knowing the demand is there and plenty of money can be made?
"Year 2010, this is what everyone will be talking about," said 'Pete', not his real name, who made thousands selling mephedrone online.
"In the 80s we had cocaine; in the 90s it was ecstasy. Now we have these designer drugs and they are not going to go away."
Mephedrone history
Mephedrone is from a family of chemicals, cathinones, found in the African plant Khat. The shrub's thin leaves have been chewed for centuries in countries like Somalia, Ethiopia and Yemen. Users report a mild sense of excitement, loss of appetite and the chatty feeling usually associated with amphetamines.
In the 80s we had cocaine; in the 90s it was ecstasy. Now we have these designer drugs and they are not going to go away
Pete former mephedrone dealer
Chemists worked out years ago that it was the cathinones in the plant that were causing those effects. But it took until 2007 for someone to realise they could artificially produce the same chemicals at much higher concentrations and sell them at a profit as recreational drugs. What's more cathinones were not covered by the 1971 Misuse of Drugs Act so were legal to buy and sell.
Mephedrone first started to appear in some powerful legal high capsules then, reportedly, in batches of what clubbers thought were ecstasy pills in France.
Disguised on the internet
But the real driving force behind the drug was the internet. A handful of websites started selling mephedrone as a 'research chemical' along with similar products. By marketing the powder as 'Not for Human Consumption' vendors thought they could get round the 1968 Medicines Act.
The drug spread by word of mouth in schools, colleges and clubs. By the end of 2009 dozens of websites had sprung up, many with names like 'Rave Gardener' were selling mephedrone by the gram as plant feeder.
It is also called Meph, MCat or Meow.
"It's gone from somebody who wanted to try something out to everyone's grandma knowing about it now," said Pete. "The cat is well and truly out of the bag with these chemicals."
Side effects
Like any recreational drug that's snorted in large quantities, mephedrone has some nasty side effects.
There is at least one entire family of chemicals, not covered by the Misuse of Drugs Act, which could take the place of mephedrone
At the mild end it can cause nosebleeds, headaches and nausea. Other reports suggest heavy use can lead to paranoia, hallucinations and panic attacks.
Mephedrone has now been linked to 27 fatalities in the UK although in none of the cases so far is it confirmed as the only cause of death.
The government's team of drug advisors started seriously looking in to the health effects at the tail end of last year and recommended a speedy ban.
Most websites, including Pete's, started closing down almost immediately. But already reports are starting to emerge of a new generation of powerful legal highs, completely untested but not, currently, against the law.
"We've already been offered a mixture of the new synthetic drugs that may or may not be coming out on the market," said Pete. "Within a week or two weeks there will be a couple of new names out there which people who are already involved in the industry will start buying in."
The new Meow
There is not an unlimited number of these new designer drugs waiting to be invented. In fact scientists say there are only so many theoretical chemicals that can work as recreational stimulants.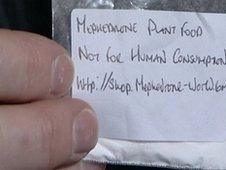 But one of the UK's most senior chemists told Newsbeat there is at least one entire family of chemicals, not covered by the Misuse of Drugs Act, which he thinks could take the place of mephedrone.
Now there is talk to changing drugs law to let politicians slap an emergency ban on some of these new substances while tests are carried out.
Before that happens expect to see the game of cat and mouse between the authorities and back street chemists continue.