Ricky Gervais 'says no to bank's £1m offer to perform'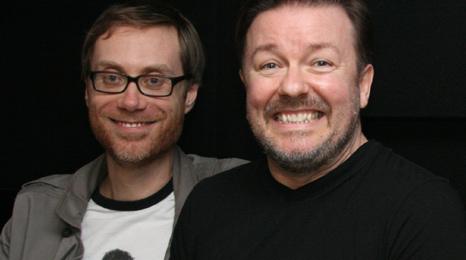 Ricky Gervais has revealed he turned down a bank's £1 million offer for a corporate gig, calling the sum "disgusting".
The actor and comedian is busy promoting his new film Cemetery Junction but says he had no desire to perform half way across the world.
Gervais said: "I was offered a million pounds to do 40 minutes at a Hong Kong bank. I said, 'No'."
The comedian wasn't impressed and refused the offer.
The 48-year-old told Newsbeat the bank then proposed a private jet to fly him to Hong Kong, but he turned that down too, telling them it was too far to travel.
Gervais' latest feature film, written and directed with comedy partner Stephen Merchant, is in cinemas now.
The movie is a coming-of-age drama set in the 1970s and features three relatively unknown actors (Christian Cooke, Tom Hughes and Jack Doolan) in the lead roles.
Ricky said: "We think that we've found some future stars," but then joked "and we have 50% of their wages until they're 60."
Laughing, Ricky continued: "It's the same contract Steve Carrell signed when he did The American Office. I mean he's kicking himself now, but just think about what you sign kids."