Introducing…Gold Future Joy Machine
Self-proclaimed tonic to 'moany indie' the east London fivesome are playing chaotic warehouse parties - when they're not being shut down.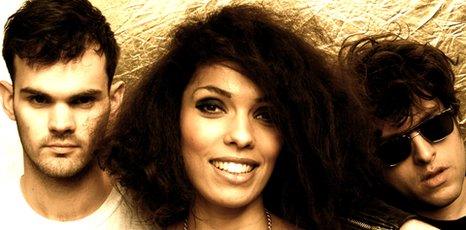 "The band is like a constant remix of itself," says Gold Future Joy Machine's confident lead singer Johnny Kenton.
Indeed, the east London-based unsigned foursome are following in the tracks of bands like Soulwax.
Five years ago the Belgian band recorded an album (Any Minute Now), remixed it as their alter-egos 2 Many DJs (Nite Versions) and then began playing those incarnations with their live band Soulwax.
What GFJM (Johnny's joined by keys player Keir Vine, percussionist Zoe Palmer and bassist Tomo Harada) are doing is rather less confusing but follows that ethos.
Warehouse party
Sharing a love of French dance music, British guitar bands (mostly from the north-west) and UK dubstep, the band claim to never play the same gig twice.
Right now they're mostly throwing their own house and warehouse events across east London and revelling in the idea their shows come with no restrictions.
"We'd go out and party together and just started playing together at little house parties," explains Kenton. "Word started to get out and it got bigger.
"The best thing is that it is free - you can play as long as you want, we can play what tunes you want, different versions of it.
"We've been shut down quite a lot. As soon as the parties started we had to push them out to the fringes (of London) where maybe you could get away with a bit more."
'Life is hard'
There's certainly a celebratory vibe about the band, who release their debut single My Doper's Cadenza in May.
"The whole vibe of Gold Future Joy Machine is that we take tougher elements of things we've been through or the harder bits of life and try and make it joyful and try and make it happy," says Kenton.
"Life is hard but it's really beautiful too.
"That's part of the reason the band got together - not a lot of people were saying the stuff that related to us.
"There weren't a lot of bands that seemed to say what our lives were like. It's amazing and wonderful and brutal and hard sometimes. I think a lot of people got disheartened about indie getting quite moany."
As for the immediate future, May sees the quartet take their DIY attitude out on the road for the first time before settling down to record their debut album due out later in 2010.
"We want to make a great album and carry on chucking mean parties," concludes Kenton.
"Our ambition is the same as any other band - we want to be heard by as many people as possible.
"You're a liar if you're in a band and you don't want to be heard. That's the dream."