Paolo Nutini plans in-house studio for upcoming bands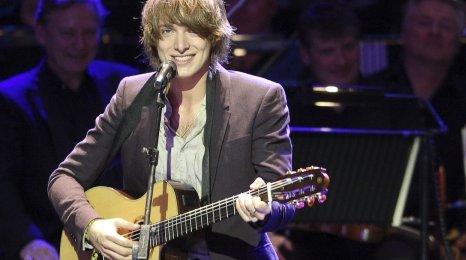 Paolo Nutini says he's in the process of building a studio in his house that bands can come and record in.
The Scottish singer says he's been writing there himself and practising on a few instruments.
He told Newsbeat: "It's just gear in a room in my house. It's building its way up.
"The idea eventually is to have somewhere where people in Paisley, my home town, in bands that are starting up can come and make their demos and hopefully I can help out.
"I'm trying to get some people down, some different bands and see if they find it a good place to record."
Speaking ahead of a gig at London's Royal Albert Hall, Nutini admitted he's not shy about showcasing his new ideas and might even let fans interact by feeding back what they think of future material.
He said: "There's a lot of stuff you don't hear, songs you write that if you saw each step of the process would probably make more sense of how it gets from A to B.
"I've always wanted to make some of the demos available on the site or you get them with the record to show you how you got from there to there."
'Too precious'
The 23-year-old is currently penning some new material and says that playing to fans is always a great way to see how it goes down.
We did a show in Amsterdam and She came to the show. I met her after the show and she was really cool
Paolo Nutini on touring with Pink
He said: "I know some bands that are precious about their new ideas.
"They're conscious of the fact that people can - even from mobile phones - begin to get clearer and better recordings of the songs... so they're a lot more hesitant to play them.
"I find that pretty worrying because really that's what you want. That's a great way to gauge initially how the song hits an audience."
Summer tours
He says at the moment he's got a lot of what he describes as "half ideas" and he's really excited about four or five of them.
The singer's got a busy summer coming up, with a return to T in the Park, V Festival and a host of gigs from the end of May onwards.
Included in his upcoming schedule is a series of seven shows with a rather surprising artist - Pink.
He explained: "It's one of these things where the idea was presented.
"I hadn't seen a show of hers and then my sister had gone and she came back raving about the show - saying about the act. She's up in the skies singing on a trapeze. She liked the music more for seeing how much went into the show.
"Then I ended up meeting her. We did a show in Amsterdam and she came to the show. I met her after the show and she was really cool."