Lightbulb maker unveils LED bulb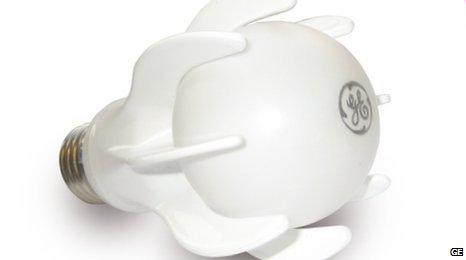 One of the world's largest lightbulb makers has unveiled what it hopes will be the future of home illumination.
American manufacturer General Electric claims its Energy Smart LED bulb puts out as much light as an old-style 40 watt incandescent bulb.
However, it uses less than a quarter of the electricity.
It will cost around £33 ($50 US) when it hits stores later this year.
Light Emitting Diodes are seen as an alternative to 'energy saving' compact fluorescent bulbs.
While both technologies use roughly the same amount of power, LED lights can switch-on instantly and are cooler to touch.
Directing light
Several LED bulb technologies already exist, although most are produced by smaller manufacturers.
GE claims its system improves on its rivals thanks to 'fins' surrounding the bulb.
These are designed to spread-out the light, which tends to shine in a single direction with LEDs.
The bulb consumes around 9 watts of electricity, roughly the same as a compact fluorescent.
Its high price tag may be off-putting for most people; but with a such big player now pushing domestic LED technology, the cost is likely to fall quickly.
Banned bulbs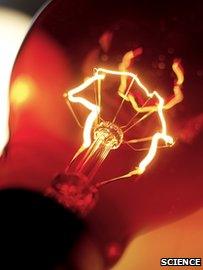 Companies are working to develop new lighting systems as governments phase-out the traditional incandescent light bulb.
The 130-year-old technology is seen as being hugely inefficient, putting out more heat than light.
Manufacture and sale of frosted and pearl-type bulbs, as well as clear 100W bulbs is already banned in Europe.
All incandescent bulbs will be phased-out by 2013.
The United States is also pulling-the-plug on incandescent lightbulbs, with an end date of 2014.