Meet Newsbeat's first time voters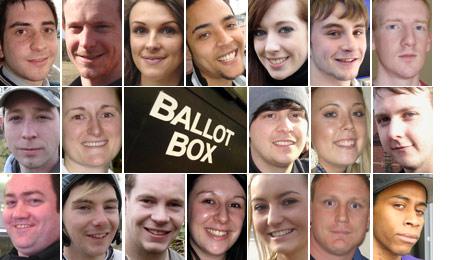 The general election's taking place on 6 May so Newsbeat's pulled together a group of 19 listeners from around the country to take part in our election coverage.
In the run up to the big day they'll be appearing on the radio and online, letting us know what issues matter to them and whether they're convinced by any of the political parties.
You can find out more about them, what they think the burning issues are and what they would do if they were PM, by clicking on the profiles below.
___________________________________________________________

Adam Hatton, 18, Kettering, taking time out before starting university next year.
"People in England have to pay for their tuition fees, yet in Scotland they don't. How is that fair?"

Chris Ashworth, 26, Salford, field sales rep who's had to take a big pay cut.
"(Politicians) don't lead a life like mine and I don't think they'd understand me. Their views are so different from reality."

James Dudill, 33, Rotherham, power plant electrician and union rep.
"I'm not sure about David Cameron - I haven't really formed an opinion on him, but he seems like a genuine bloke."

Kate Milnes, 28, Oldham, maths teacher, is thinking about starting a family soon.
"I'd have a look at education... As teachers, we're measured far too much on our exam results."

Kati Brooks, 20, Thetford in Norfolk, customer advisor at a building society.
"Really it's the criminal justice system. People are committing serious crimes and not getting enough time in jail. Life should mean life."

Liam Barkes, 22, Ilkeston in Derbyshire, helps maintain rental properties.
"I want independence for me and my daughter, and a space of my own, but I just can't afford a place."

Marie Jackson, 19, originally from North Yorkshire but now at uni in Lancaster.
"Gordon Brown's taken a lot of stick recently. How justified that is I'm not sure. The phrase, 'Kick a man when he's down' comes to mind."

Martin Wailes, 33, Warrington, has two children. Left the army a few years ago - now a plumber.
"Do the rich MPs and the bankers actually understand what it means to think, 'How much have I got to pay this month for my gas, and my electric?'"

Matthew Glynn, 20, Wigan, golf course greenkeeper, number seven in UK at BMX racing.
"There's no real community, or sense of together-ness in this country. That's one of the reasons I like sport."