Kate Nash calls for chart rethink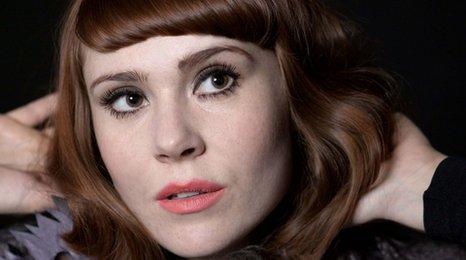 Kate Nash has said changes should be made to the official chart and way artists release music in order to combat illegal file-sharing.
An active member of campaign group the FAC (Featured Artists Coaliton) alongside members of Pink Floyd and Radiohead, the Harrow singer said the industry "needs to move on".
Speaking to Newsbeat she said: "The charts should change and the rules of the charts should change.
"If singles come out, they should come out and be available on the day - instantly. Build up to records will have to be done differently. And education in music - education in schools has to be different."
Free music debate
Having topped the UK albums chart with her debut LP Made Of Bricks in 2007, Nash suggests the problem the industry faces is the established culture of young fans getting music for free.
The charts should change and the rules of the charts should change
"We do tell them they can have it for free but only when we want to give it to them for free. It is accessible all the time for free," she said.
"We have YouTube channels, MySpace, give free downloads and play it on the radio."
Defending FAC
In September last year an argument erupted between the FAC and artists such as Lily Allen.
Allen criticised the group for not protecting the rights of young artists saying: "These guys from huge bands said file-sharing music is fine. It probably is fine for them - they do sell-out arena tours and have the biggest Ferrari collections in the world."
However, Nash is quick to defend the position and intentions of the FAC - whom still hold regular meetings to discuss artists' rights.
Kate Nash prepares principled new album
"I thought it was a bit silly because I kind of thought it was really overblown statements and no-one was listening to each other," says Nash.
"It didn't seem like the people who were making the statements understood what was being said.
"The point the FAC made was that file sharing exists now, and we can't control that.
"The industry has to change, it has to move on. It can't be stuck in old formats and structures because it doesn't work.
"You've got to accept it and come up with innovative ways of making it work, and make people care about buying records.
"It's impossible; you can't just stop people from having the internet. You can't stop people from downloading."