Thousands of council jobs in England could be cut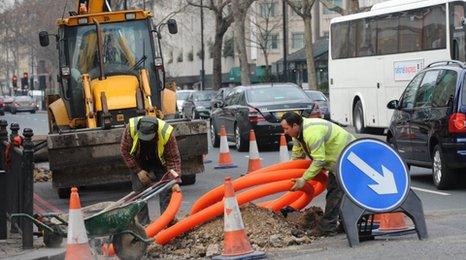 It's feared 25,000 council jobs could be lost in England over the next three to five years.
It's as local authorities brace themselves for much tighter budgets as they try to pay back the massive debt built up tackling the recession and economic downturn.
The average council provides hundreds of services from adoption services to zoo licensing.
But they have some tough decisions to make as budgets get tighter with the arts, leisure centres, libraries and road services all in the firing line.
Almost 50 English councils responded to the BBC's survey.
They predicted cuts of between five and 20%, which could mean 25,000 jobs, as the government tries to pay off debt caused by the recession and councils battle falling incomes and higher demand on services.
In Birmingham they've already announced 2,000 job cuts.
Unions say it could lead to strikes but the government's urged councils to avoid axing front-line services.
Gordon Brown's been defending the government's record on providing support for councils.
He says that under Labour funding has increased by 40% in 10 years and that while there's a need for efficiency savings there's no need for cuts to services.
The Conservatives say they would bring in a one-year pay freeze for public sector workers earning more than £18,000.