NME Awards: The view from the front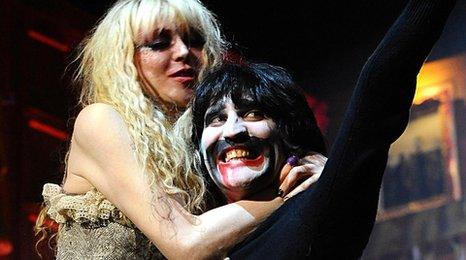 Jarvis handing out sandwiches, The Mighty Boosh and Slash eating noodles, Damon Albarn's extended speeches, odd collaborations and a host of special guests - this year's NME awards didn't fail to live up to their rock 'n' roll reputation.
"This is not the Brits academy, this is the Brixton Academy... now, are you ready to graduate?"
And so starts the NME Awards 2010, the Brit Awards' long-time rock 'n' roll little sister.
Last week at Earls Court we had Peter Kay, but tonight it's the equally dry Jarvis Cocker taking charge of proceedings dishing out awards from a stage set up like a Shakespearian mansion.
The ex-Pulp man plays the part of an eccentric university lecturer by running through a geographical slide show and tinkling keys like Bill Bailey.
The all-conquering Kasabian opened the show, joined by The Mighty Boosh's Noel Fielding dressed as Vlad The Impaler baiting the crowd and hugging Serge Pizzorno. A brilliant way to begin.
Dodging paps
Looking like a very odd couple, Lily Allen and Slash pair up to present the best British band award to a bemused Muse.
Lily's almost still out of breath after running up the red carpet outside the show 10 minutes before (Mark Ronson, Arctic Monkeys, Agyness Deyn and Blur also skilfully avoided the press throng).
Meanwhile, much to everyone's surprise, Maximo Park's Paul Smith has been busy growing a hefty beard.
He strolls out looking like a member of Fleet Foxes to give the award for best festival to Glastonbury's Emily Eavis.
She keeps her thanks short and sweet. Unlike Damon Albarn, who Jarvis brings to the stage to present The Specials with their outstanding contribution to music award.
"I'm gonna bang on about this for a little while," he begins, unpromisingly.
"I can't believe how gross it is," say The Specials when they finally pick up the award before playing a short two-song set.
Sandwich-fest
After some inaudible chat from Alexa Chung backstage, a wide-eyed Mat Horne and Elly Goulding - considerably less nervous than at the Brits - welcome a very surprised Bombay Bicycle Club to the stage to collect best new band.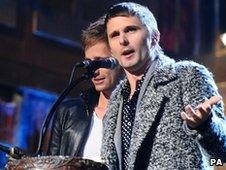 Jarvis's increasingly odd links then see him hand out jam, cheese 'n' pickle and egg-mayo sandwiches to the frontline fans.
After that, Lily's back to the stage collecting the 'giving it back to the fans' award for her Twitter ticket treasure hunts.
"I'm happy to give it back anytime," she winks before scuttling off.
Despite being up for the most awards tonight, only half of Arctic Monkeys turn up.
Bassist Nick and drummer Matt pick up best live band explaining that the others are "auditioning for the prequel to Twilight".
Biffy and Marina
Almost at the half way point now and Ayrshire rockers Biffy Clyro rattle through their single Many Of Horror aided - slightly unnecessarily - by Marina Diamandis.
Meanwhile, a huge cheer greets the news that Blur have bagged best live event for their Hyde Park gigs last summer.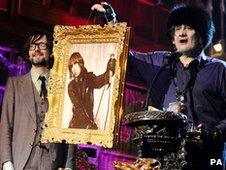 For the sake of the clock, Damon suffices with a simple "thank you" this time.
It's two more words than The Pogues' Shane McGowan can manage though.
The VT premiere of his Haiti benefit gig (featuring Johnny Depp and Paloma Faith amongst others) cuts in as he dangles a picture of Primal Scream's Bobby Gillespie around.
The only logical way to follow that of course is Jarvis doing two minutes of hoola hoop.
Lily's puppets
A much needed raw edge is brought to proceedings by Courtney Love - or rather her newly-assembled Hole - who speed through a couple of gloriously rough-around-the-edges tracks.
That's in contrast to the Big Pink playing their track Dominoes and being joined by Lily Allen.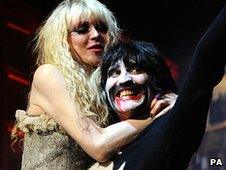 The most impressive bit being not their harmonising but the hand-controlled puppets with CCTV cameras for heads.
By which time it's getting late and the prolific amount of free alcohol on the artists' tables is draining.
Paramore get booed for not being there, before Noel Fielding - still sporting a fake moustache - bounds up to win best DVD.
It's not long before he's back on stage with Courtney Love to announce Kasabian as the winners in the best album category.
"I just had a Pot Noodle with Slash," titters Fielding.
Cue Tom Meighan walking up with a head on a stick to collect his award, before The Clash's Mick Jones and Primal Scream's Bobbie Gillespie hand Paul Weller his Godlike Genius statue and bring the curtain down on another fantastically ramshackle NME Awards.