Slash 'in talks to appear at Download Festival'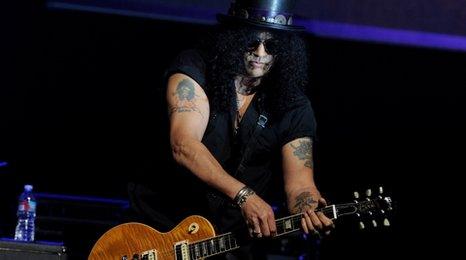 Former Guns N' Roses guitarist Slash says he's in talks to appear at this summer's Download Festival.
The US rocker is releasing his debut solo album on 10 May and will be supporting it by playing a few festivals and concerts across Europe.
He said: "I know we were talking about doing Download and there's a couple of other ones. We'll do some around Germany as well."
The guitarist has only played one song live from his album so far, during a jam session in LA called Slash And Friends.
But he says British fans will definitely get a chance to see him on stage this year.
"We're going to start doing shows in April and a couple of shows in May," he said.
"Then I'm going to start touring properly in June doing the summer festivals in the UK."
'Amazing singer'
Slash's record features an all-star line-up with tracks featuring the likes of Fergie, Foo Fighters' frontman Dave Grohl and Adam Levine from Maroon 5.
The guitarist, who was born and raised in the UK, says working with the Black Eyed Peas singer was extremely rewarding and a bit of a surprise.
"Certain songs just leant themselves to singers other than the typical rock singers," he admitted.
"That was one of the great things about doing a solo record, I had that artistic freedom to do whatever I wanted.
"Fergie is an amazing rock singer so when you hear her track you go, 'Oh, I get it'."
The album, which also features collaborations with Kid Rock, Ozzy Osbourne and Lemmy from Motorhead, is being released with a rock magazine.
Slash hasn't released any new music since Velvet Revolver's 2007 album Libertad.
He admits the band has been put on the backburner for now because of his focus on making his debut album.
He said: "We worked really hard on trying to see if we could find a singer right after the last tour stopped and we were done with Scott [Weiland].
"We didn't want to rush it or make any desperate decisions.
"As soon as I get back from this tour I'll call the other guys and see where they're at and then we'll reconvene and take a good look at where Velvet's at and who's out there and get that up and running.
"It's definitely not dead. It's just sort of dormant."