American Haiti video We Are The World has premiere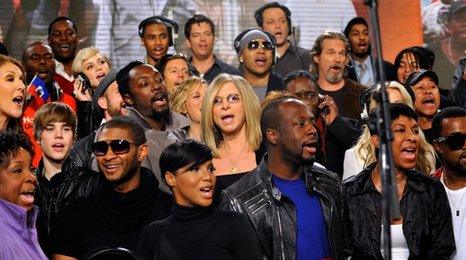 The video for America's Haiti charity single, We Are the World, has had its world premiere.
The song, originally recorded in 1985 for African famine relief, was played out during NBC's coverage of the opening ceremony of the Winter Olympics.
Watch the song on the official We Are The World 25 For Haiti website
Filmed by Oscar-winning director Paul Haggis, the video shows images of devastation from Haiti after the 12 January earthquake that has claimed more than 200,000 lives.
It also shows some of the 85 artists who gathered in Los Angeles earlier this month to re-record the charity anthem.
Teen singer Justin Bieber opens the song which also features Jennifer Hudson, Nicole Scherzinger, Fergie, Nick Jonas, Lil Wayne, Kanye West, Miley Cyrus and Haitian-American singer Wyclef Jean.
Michael Jackson, who co-wrote the original hit with Lionel Richie, is shown in a clip from the original video.