Glastonbury Festival line-up is 'nearly finalised'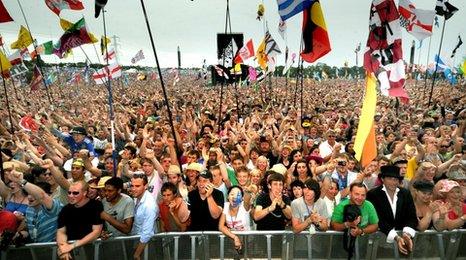 The line-up for this year's Glastonbury Festival is "pretty much finalised", according to organiser Emily Eavis.
Eavis says they still have to confirm who's headlining the Sunday night but that they're hoping to announce some names soon.
She said: "We're pretty much sewn up now. We're still confirming the Sunday night headliner.
"Apart from that we've pretty much finalised the Pyramid Stage, which is good.
"There are rumours about everyone I think. I think this is the first year that people genuinely don't know who is going to be playing, which is a good thing."
The festival is celebrating its 40th anniversary this year after starting in 1970.
Last year saw the likes of Bruce Springsteen, Blur and Neil Young headline the main Pyramid Stage.
The only headliner to be announced for 2010 is U2, who'll play the top slot on Friday 25 June.
Emily Eavis says there'll be a mix of old and new this time round.
She said: "We've got amazing highlights from the full 40 years and also some people who haven't played before, one headliner in particular."
The festival takes place on Michael Eavis' dairy farm in Somerset from 25-27 June.
It sold out in a day after tickets went on sale last October.
People who paid a £50 deposit to reserve a ticket will have to pay the full amount by 28 February.