'Fugees should record Haiti charity song,' says Wyclef Jean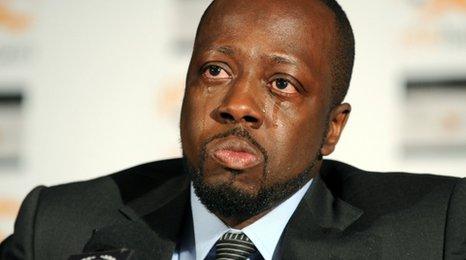 Wyclef Jean says his former group Fugees should record a charity single to raise money for the victims of the earthquake in Haiti.
The group, which featured Wyclef, his Haitian cousin Pras Michel and Lauryn Hill, split up in 1997 but could reform for a one-off release.
He said: "Everyone is doing different relief and when the time is right, the vibe is right, The Fugees should definitely contribute a single to go into Yele Haiti (Wyclef Jean's charity). I think it would raise a lot of money."
Wyclef Jean revealed that he travelled to Haiti the day after the disaster to help move bodies to cemeteries.
Around 200,000 people are thought to have died in the 12 January earthquake with 1.5 million Haitians now believed to be homeless.
"I was on the ground the day right after the earthquake," he said.
"I walked into bodies on the ground resulting in me picking up a lot of bodies, bringing them to the cemetery because the morgue was overpopulated.
"Women and children were dead on the streets and people were walking around with their limbs out, eyes gashed out but they were still trying to make it to wherever they could get aid."
Aid operation
Haiti's government called off the search for survivors last Friday (22 January) and is now concentrating on getting aid to people who need it.
Despite that, more than 130 people have been pulled alive from the rubble with one 16-year-old found on Wednesday in the capital Port-au-Prince, two weeks after the earthquake.
Wyclef Jean told 1Xtra News he had to get involved in the aid operation and wants to make sure people's donations get to the people who need help.
He said: "Here's a chance where we can actually rebuild the country from ground zero. So I think we all should focus on that.
"My biggest fear is all of this money being raised. Who is the person that is monitoring that money to make sure that it's actually being used on the ground properly?"
The 40-year-old singer helped organise a charity telethon with Hollywood actor George Clooney last week which was watched by 83 million people across America.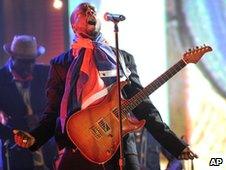 So far it's raised $66m (£40.6m) with an album featuring performances from the night going straight to number one in the US chart.
Wyclef Jean says he's now planning another TV fundraiser featuring Black Eyed Peas on 5 February.
"That's going to be big. I've got a lot of people coming out to support that. Keep your eyes open and let's try to help."
Everybody Hurts, the UK single recorded to raise money for victims of the Haiti earthquake, will be released on 7 February.