Northern Ireland kneecapping victim 'shot four times'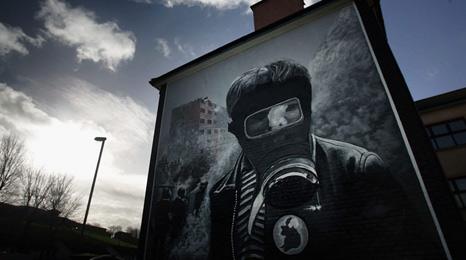 The family of a punishment shooting victim in Northern Ireland say the police should be doing more to stop them.
For years the number of paramilitary style attacks has dropped but figures show 41 were carried out last year, more than double the year before.
David (not his real name) was watching Big Brother on TV in a bedroom with his girlfriend when four men forced their way into his house.
"They pulled out a gun and pushed me down," he said. "One punched me in the face, and someone knelt on my back. I was kicking my legs and they told me to stop or it would be worse. They shot me four times."
I was shot in the shin, thigh, ankle and calf. I was in shock but shouted to my girlfriend, 'Call an ambulance'. Then I passed out
Punishment shooting victim
They had scarves round their faces and balaclavas on to disguise their identities.
One held his grandmother in the lounge, while the others went upstairs to carry out a punishment shooting, also known as a kneecapping.
"I was shot in the shin, thigh, ankle and calf. I was in shock but shouted to my girlfriend, 'Call an ambulance'. Then I passed out."
David says they thought he was a drug dealer, which is something he denies.
It's believed a rebel republican group called Oglaigh na hEireann was responsible for the attack.
It's a splinter group from the Real IRA, thought to be behind the bomb which was placed under a policeman's car earlier this month.
His family say no one's ever been charged over the attack and criticised the police for not doing enough to help them.
Shootings rise
The police say they're working with local communities to prevent paramilitary-style attacks and have had significant success at stopping them.
David's mum said the police needed to do more: "A majority of people in the local area are in these dissident groups or supporting them. The police need to stop it from happening."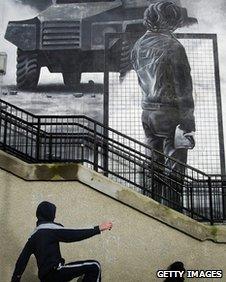 For decades, paramilitaries in both loyalist and republican areas used punishment shootings as a way of controlling communities.
With policing often absent in parts of Northern Ireland, the attacks were carried out on those believed to be guilty of anti-social behaviour.
There was a distrust of the police force, particularly in the Catholic community.
They viewed it as being largely Protestant and felt that the Catholic community was unfairly targeted, a feeling that's exploited by the paramilitaries.
According to police figures, there were 186 punishment shootings in 2001, of which most were carried out by loyalist groups.
Since then, the total number of attacks has fallen dramatically, to just six in 2007.
In 2008 the figures rose slightly to 16 attacks but the latest figures show 41 punishment shootings were carried out in 2009 and all but one was blamed on rebel republican groups, such as the Continuity IRA.
The number of punishment beatings last year also went up, to 81, compared to 40 in 2008 with most being blamed on loyalist groups.
Warnings
Harry Maguire is an ex-IRA prisoner who was convicted of murder. He now works for Community Restorative Justice, an organisation who try to stop punishment shootings.
"A number of the shootings that have taken place over the last year have been done in a very haphazard manner," he said.
Paramilitaries told me I had 48 hours to leave the country or else I would be severely dealt with
Man, who wanted to remain anonymous, says he was warned he'd be shot
"They're unprofessional with what they're doing. There's been a number of these punishment shootings where the intention has been to shoot someone in the knees. On one occasion a person was shot in the shoulder."
Father Gary Donaghan is from the Holy Cross Church in Belfast and explained the different sort of attacks.
"There are beatings, and then kneecappings," he said. "Then there's what they refer to in a very sadistic way as a six-pack. Somebody shot in the elbows, knees and the ankles."
Paramiltaries sometimes warn him a punishment attack is about to take place.
He says he negotiates with them to stop them taking place.
He said: "They would contact the monastry, say they belong to an actual organisation and say that a person was under critical threat, and say within a certain period of time this person is to be shot."
'I don't feel safe'
Often negotiations will lead to a person having to leave their home.
It happened to this man, who again, didn't want to be identified.
He said: "Paramilitaries told me I had 48 hours to leave the country or else I would be severely dealt with. It could be anything, your legs or arms broke, even shot in the head. Executed as they would call it."
David now hopes to get on with his life and can now walk again but he still has nightmares.
He's planning to leave the area, even though that means leaving his family behind.
"I'm still scared," he admitted. "For a long time I couldn't leave the house. Now I'm starting to go out more but I'm nervous. I don't trust anyone."
His mum told Newsbeat she was also trying to move house but couldn't find a new home.
She said the whole family was struggling to get over what happened.
"We've all gone through the whole process of nightmares, medication, counselling," she said.
"It's something that's never going to end. I don't feel safe. I don't think anyone feels safe."