Introducing…Tinie Tempah
Inspired by So Solid Crew and discovered on a games console, the 21-year-old Londoner could be the latest grime-pop crossover success.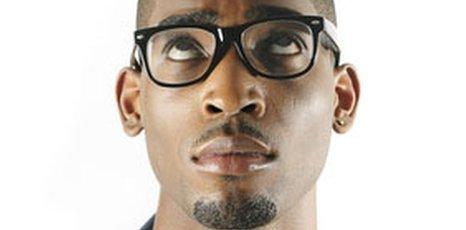 Right now Tinie Tempah is being followed… by himself.
"It's like a shell shock," he says, shaking his head. "Even when we were in the airport I opened up OK! Magazine and I was in there… I was like, 'Wow'."
Wow, indeed. Whether it's in magazines, blogs or on radio, the 21-year-old south Londoner is everywhere.
Single Pass Out is inescapable and he's been widely tipped as being grime-pop's next big crossover success.
Solid inspiration
In the beginning it took one video clip for Tinie Tempah to decide music is what he wanted to do - So Solid Crew's 2001 hit 21 Seconds.
"My whole life just changed," he explains. "I vividly remember watching the television and going ballistic.
"I remember thinking, 'What is this? This is absolutely amazing'.
"That was like pandemonium, the So Solid Crew phenomena."
Were it not for the south London posse - currently launching a comeback - Tempah wouldn't have had the confidence to pursue his dream.
"Ultimately if it wasn't for them we may not have even been here doing what we're doing.
"The standards they set have definitely inspired a lot of the next generation of grime, urban or garage MCs. They did an amazing job."
Next step
From there he and a friend began exchanging mix tapes of local pirate radio sessions from the likes of Wiley, Tinchy Stryder and Chipmunk.
"Their success has definitely showed me what could possibly happen or how far it could go," he says.
"A few years before this nobody thought urban artists would be doing sold out tours and selling number one singles.
"I'm one of those people who when they've seen it has been done, I like to take it a step further."
His personal break came with a YouTube video hit of a track called Wifey Wifey and scoring a track for a hand-held computer console alongside DJ Ironik in 2005.
"That was one of the first breakthroughs" he says.
He's now landed a major label deal, an experience he's still getting used to.
"Its one thing coming from where I come from. Now I'm getting in with these guys with massive studios that are as big as this room."
The guys he's talking about are the raft of producers he's employed on his forthcoming debut album Disc-Overy, set for release in summer 2010. That's emerging names like Labyrinth, Agent X and Ishi.
"It's going to be something very amazing," he points out.
With that album still to complete, a tour with Chipmunk in February and a new single to come, one thing is for sure - Tinie Tempah's going to be seeing a lot more of himself.