Hot Chip say their new album One Life Stand is 'homely'
Lead singer Alexis Taylor chats about not "spoon feeding" their fans whilst being influenced by Susan Boyle and UK Garage on fourth LP One Life Stand.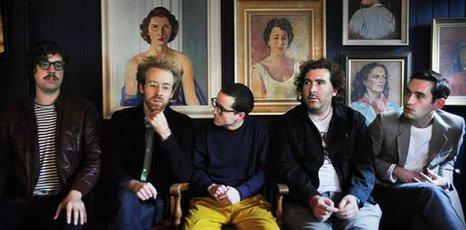 Hot Chip are 10 years old this year.
However, the London fivesome didn't congratulate themselves with a card or flowers but, rather, with a year off from touring and a studio upgrade.
We say upgrade; their three previous albums (Coming On Strong, The Warning and Made In The Dark) have all been recorded amongst the dirty washing and tea-stained keyboards of their bedrooms.
"It makes the record seem more coherent than previous ones," contemplates lead singer Alexis Taylor. "It's not made in short bursts, it's made with time.
"Maybe before things sounded a bit disjointed at times. It's a less cluttered, less busy sounding record than ever before."
Continuity change
Continuity, or lack thereof, was the main criticism levelled at their last outing 2008's disparate pop opus Made In The Dark.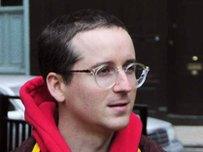 "I really like the last record we made - really proud of it," Taylor insists. "It was meant to be a double album and sprawling and full of different ideas from one song to the next.
"Maybe people wanted something easier to consume. I don't think it's fruitful to try and spoon feed people something they find easier to consume.
"That can lead to very bland music, which obviously there is a lot of in British pop music. We're not tailoring for any reason like that."
'Garage' influence
One Life Stand is undeniably more cohesive - a far more knitted, compact album.
But it doesn't prevent them from exploring new territory. For example, the heavy influence of UK garage on album track We Have Love.
"I guess it feels similar in a way to I Feel Love - the Donna Summer song, in terms of the euphoria of the chorus. It's reminiscent of that," the singer says.
I like the fact that's she's clearly talented and is doing well from that
Alexis Taylor on Susan Boyle
Slightly more unexpectedly, Joe Goddard - the group's principle beatmaker alongside Al Doyle, Owen Clarke and Felix Martin - has spoken about the inspiration of Susan Boyle on the album's sound.
"He [Joe] enjoyed her performance of the piece from Les Miserables," explains Taylor. "He was thinking about the string melody. He took an influence from that - it wasn't so much from Susan Boyle's singing.
"I do think she's got a nice voice myself - I liked her version of [The Rolling Stones's] Wild Horses.
"I haven't really followed her story but obviously I see her in the paper every now and again. I like the fact that she's clearly talented and is doing well from that."
For the moment Hot Chip appear to have crafted the tightest album of their decade-long journey together.
"It's the most warm and soulful sounding record we've made. It's quite a homely-sounding record," says Taylor rounding off.
"In songs like I feel better it's trying to reach a kind of positive conclusion and positive state of mind whilst also trying to think about the terrible state the world is in."
One Life Stand is released on 1 February.