Florence: Brit award nominations are 'unbelievable'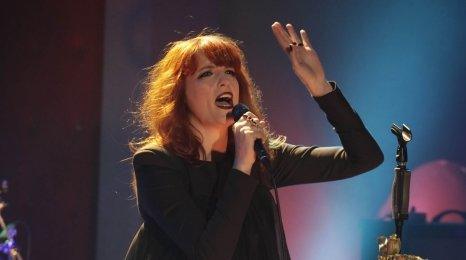 Florence and the Machine has described her haul of nominations for this year's Brit awards as "unbelievable".
The singer, nominated for British female, British breakthrough act and British album, is up alongside other top acts such as Lady Gaga and JLS.
She said: "I honestly never ever thought I'd be up against people like Lily Allen and Lady Gaga because they're such huge stars.
"It seems unbelievable that we'd be in the same category."
She added: "I just see them as really successful and famous artists. I still feel like I'm still just emerging.
"It'd be nice to win something like British breakthrough act because this year has been for me a big break through."
'Terrifying night'
The ceremony, held on 16 February at London's Earls Court, will be Florence's second appearance at the event after picking up the critics' choice prize last year.
"I was terrified. I cried. I've never done anything as scary as having to walk out onto that stage," she recalls.
"I was literally having heart palpitations. I thought I was having a panic attack. Hopefully this time I won't cry.
"I'm still not used to it, it takes a lot to psyche yourself up for that sort of thing. I'm just trying not to get too nervous."
Alongside Kasabian, Jay-Z and Cheryl Cole, Florence will perform on the night this year and collaborate with rapper Dizzee Rascal.
She said: "I just thought it'd be great to do something with Dizzee because I've never collaborated with someone who is more of an R&B, hip hop artist. I thought it'd be really exciting."
To rehearse the song, a mash-up of their respective tracks You've Got The Love and Dirtee Cash, the pair first met three years ago at a "white horse themed" fancy dress party in Brighton.
"I had a tale and hooves on," admits Welch.
Meanwhile, her debut is number one in the UK album chart.
"I didn't realise that I'd be so happy about it until I got it. It's a nice feeling," she added.