Victims of the earthquake in Haiti are mourned in US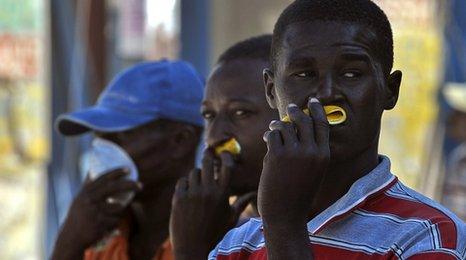 Thousands of extra US Marines have arrived in Haiti to keep order a week after the earthquake which is thought to have killed 200,000 people.
It's after reports of looting and violence in the Haitian capital, Port-au-Prince, where American and UN officials have had to fight off angry locals with batons.
The grey buildings in Flatbush, an area of Brooklyn in New York, reflect the mood there - the Haitian community is in mourning.
Some walk around with their heads down and their arms tightly folded, deep in thought, as they make their way to work on a dull winter day.
The brightly-coloured shops can't brighten the gloomy atmosphere.
The TV screens in the electronic stores are showing constant coverage of the earthquake.
The Haitians are desperate for good news but some say it seems like things are only getting worse.
Relatives
Aid workers are still struggling to get food and water to those who need it.
The death toll is now estimated to be 200,000 and there are still bodies buried underneath the huge piles of rubble.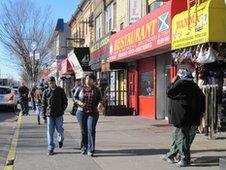 For those who have family in Haiti, the not knowing is torture.
Stories of death, destruction, rape and robbery cycle through the rolling news coverage on the TV screens.
Questions about how their loved ones are doing keep going round in their heads. Are they safe? Will they be able to call again? And are they getting enough to eat?
A woman who didn't want to give Newsbeat her name, is working hard in a clothes shop.
She neatly folds a blue shirt and gracefully puts it on the top shelf. She's from Haiti and her eyes fill with tears as she tells Newsbeat about her grandparents and friends in the capital Port-au-Prince.
"My cousin's sister-in-law passed away trying to save her daughter. She got caught in the rubble. But the daughter got saved. A lot of us wish we could go there but it's impossible."
Illegal immigrants
Patrick is 25 and is Haitian-American. He works in a sports shop and is busy sweeping the street outside.
He said: "I hope things get better as soon as possible. I just hope they are able to recover and the country's able to do a little bit better 'cos it is the poorest country in the western hemisphere."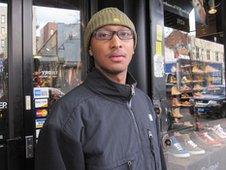 Many people are trying to leave Haiti to escape the nightmare but it's not that easy.
Most of them don't have US visas so America isn't an option.
It's estimated around half a million people from Haiti live in the USA.
The real figure, including illegal immigrants, may be much higher. Many live in New York, either in the Flatbush district of Brooklyn or in another city suburb, Queens.
President Obama recently decided to give temporary protected status to Haitians living in the US illegally.
But it's the orphans in Haiti many here are worried about.
For them there was better news from the American authorities.
Orphaned children will be allowed to enter the US temporarily so they can receive care and treatment.
As one woman told Newsbeat: "It should be impossible, whatever the rules are, to turn away from a child in need."