Latest school gadgets are tested at education show
Every year Las Vegas plays host to the world's biggest technology event, the Consumer Electronics Show.
Drooling gadget fans make their way to America's gambling capital to ogle the latest hi-tech toys, from 3DTV to handheld touchscreen PCs.
But that was last week.
Back in freezing cold west London, thousands of school teachers are trudging through the snow to get to their own version of CES.
BETT is a showcase of educational technology where suppliers can meet potential buyers.
No one ever seems to mention what BETT stands for. It may be something to do with technology and teaching, or simply an invitation to gamble your school's budget on a new widget that may, or may not, catch on.
Virtual classrooms
On arrival we're greeted by a robot called Oscar who offers up a tray of sweets.
"The green and black ones are lime and chocolate," he chirps, helpfully, in a voice that sounds like Joe Pasquale trapped down an aluminium well.
This year in particular there is the idea of handheld, mobile learning. Being able to access learning content on the go is a really important trend
Alastair Fitchett, assistant headteacher at Tiverton High School in Devon
It's clear that even seasoned IT buyers from local authorities are more attracted to the sexy stuff at this show.
The popular stands are those featuring technologies such as 3D virtual classrooms and remote control robots. The free sweets also appear to help, with chocolates doing better than mints.
Among those wandering round is Alastair Fitchett, the assistant head teacher at Tiverton High School in Devon.
"This year in particular there is the idea of handheld, mobile learning. Being able to access learning content on the go is a really important trend," he said.
Speaking to a number of teachers and IT people at the show, one piece of technology that keeps getting mentioned is not a specialist educational tool, but Apple's iPod Touch.
The MP3 player is, apparently, being increasingly used to download educational Apps and distribute material from lessons.
Technology cost
By comparison, some of the more high end technology might be seen as slightly niche.
The kit robot distributor Newsbeat talks to admits their product isn't hugely popular in the UK, yet.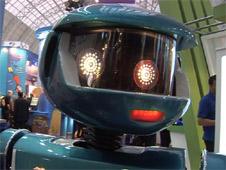 The company that makes face scanning systems for registering pupils who are late says it has sold fewer than 10 so far.
And the people offering 3D projectors insist it's early days but this will be the next big thing.
But making that stuff mainstream takes cash.
Stephen Crowne, head of the government's educational IT organisation, Becta, says there is money available: "We currently spend over £1.5bn per year in schools and colleges on technology.
"The costs of technology have been falling for some time, so we are getting more value out of it."
Mr Crowne doesn't think the people spending that money will be seduced by gadgets for gadgets' sake.
"It's seeing how it works in the school environment," he admitted.
"Teachers tend to be persuaded by what they see other good teachers doing, rather than things that are being sold to them."
Despite that, the tech companies are still doing everything they can to flog their products.
As we finish our interview, a woman from another stand walks over and invites us to "come and see us at three o'clock... we'll have a life-size dancing robot."