'More young people' forced to sleep rough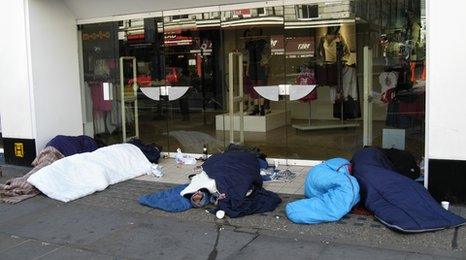 There's a warning more young people could be made homeless this Christmas.
The country's largest homeless charity for young people, Depaul UK, says the recession, along with rising youth unemployment, could force more people than usual to sleep rough over the festive period.
The charity runs 19 hostels around the UK. Westbourne House in west London is home to 12 young people and most of them are just 16 or 17 years-old.
The manager Anna Ferrari said: "It's very important for the young people to feel safe, have a roof over their head, have some warmth and have decent surroundings."
Sleeping rough
It's where 17-year-old James lives. He's been here for four months and can stay for a maximum of two years.
He said: "I'm not even looking forward to [Christmas]. I'll just sit down and eat my dinner. I don't get nothing."
James is not alone. It's thought around 50,000 young people will be homeless or sleeping rough on Christmas day this year. And there are fears the numbers could be much higher than usual.
Una Barry, from Depaul UK, said: "Certainly at the moment we're seeing more and more young people unemployed and that makes them more disadvantaged. And I'm afraid we'll see more young people on the streets."
We were left with just a carrier bag and walked out onto a cold street.
Nearly one in five under 25-year-olds are out of work, the highest number since records began in 1992.
Unemployment, coupled with the recession, is having an impact on shelters and hostels like Westbourne House.
Una Barry thinks it could get worse. "We're really worried about the next few years," she said. "And I think particularly at Christmas when people are sitting at home with their families, it's very difficult for young people to be at home without that sort of support."
Life changing
Twenty-one-year-old Leon knows all too well what it's like to be homeless over Christmas. He was kicked out of his house with his 13-year-old brother on Christmas day when he was 15.
"We were left with just a carrier bag and walked out onto a cold street," he said.
For Leon it was hard being homeless at such a young age. "You're looked at and you're looked down at," he said. "It's not a nice feeling. You feel like they're feeling negative things all the time."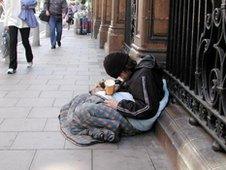 Leon stayed with his best friend for a few months and then moved into a hostel. His younger brother was put into foster care.
Leon managed to turn his life around. He now volunteers for Depaul UK, and works as a teacher.
"I wanted to do something with myself and forget about my past," Leon admitted. "You have to move on. Things do get better and things do look up for you."