Guitarist leaves Chili Peppers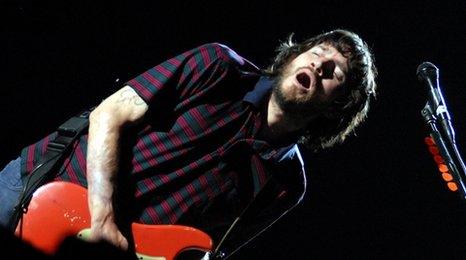 Guitarist John Frusciante has confirmed that he has left Californian band Red Hot Chili Peppers.
Writing on his personal website the 39-year-old revealed he'd actually left the group over 12 months ago whilst the band were on "hiatus".
Whilst the rockers will continue with an as yet unconfirmed replacement, internet rumours had suggested Frusciante had left to pursue his own projects but he confirmed the news by writing on his blog.
He said: "When I quit the band, over a year ago, we were on an indefinite hiatus. There was no drama or anger involved, and the other guys were very understanding."
'Happy' decision
The statement continued, adding: "They are supportive of my doing whatever makes me happy and that goes both ways. To put it simply, my musical interests have led me in a different direction."
"There was no choice involved in this decision. I simply have to be what I am, and have to do what I must do."
Frusciante joined Red Hot Chili Peppers' 1989 album Mother's Milk and contributed to four others.
He left the band in 1992 before rejoining in 1999 to help write hit album Californication.
The guitarist has also released 10 solo albums.