Rihanna would 'love to play Glastonbury'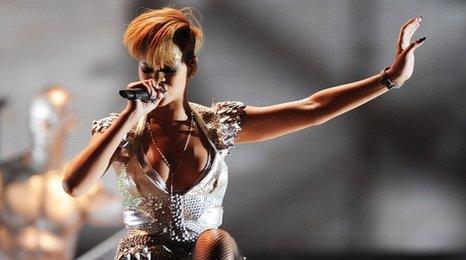 Rihanna has said she's returning to the UK next summer to play gigs and would "love to" play Glastonbury.
The Barbadian singer, who yesterday announced details of a UK arena tour for May 2010, described the Somerset festival as "a great festival and a great platform for me to be a part of."
Speaking at a press conference held at London's Westfield shopping centre she added: "I would love to be there. Even if I'm not headlining I would love to be there."
Although the Umbrella star did add she hadn't discussed the festival with label boss and collaborator Jay-Z who headlined the event in 2008.
More gigs
On the subject of other gigs and festival appearance she said: "The tour starts in the Spring, so we will be in the UK then.
"We will probably be back in the summer. We're going to be back in the UK. We always re-visit certain territories."
The 21-year-old also denied that the her latest album Rated R, released in November, had been poorly received in the UK.
Follwing up number 1 album Good Girl, Gone Bad in it's first week the new LP reached 16 in the chart before dropping to 19.
"I think people are receiving it really well. It's been the biggest number that we've had in a first week for my entire career," she said.