US prescription drug abuse 'growing'
There are worries about the number of teenagers in the US putting their lives at risk by abusing prescription drugs.
According to a survey by The Partnership for a Drug Free America, one in five teens admit experimenting with legal medication at least once.
The charity has described abuse of prescription drugs and over the counter medicine among teenagers as a "troubling trend".
Concerns are also growing that rising numbers of young people are being admitted to hospital after taking an overdose.
"They are experimenting with anything, with everything", Special Agent Gerard McAleer from the US Drug Enforcement Agency said.
"We're finding more and more experimentation with our youth in America, they are going into medicine cabinets at home and taking them from there."
Self medication
That is how it started for 16-year-old Henry Walkdale from New York, who is now on a drug rehabilitation programme.
"Prescription drugs are definitely much easier to find", he said.
"You can get fake scripts [prescriptions], there are people that literally sell them out of the back of hospitals if you know the right neighbourhoods to go to."
I'd steal from my friends' parents cabinets, I'd do whatever I could to get that fix
Henry Walkdale says he stole prescription drugs to get high
Henry's addiction got worse when he was taken to hospital with a leg injury.
"They were keeping me full of painkillers and when I got out they gave me a prescription and so I just started popping them like candy," he admitted.
"I'd steal from my friends' parents cabinets, I'd do whatever I could to get that fix."
There are concerns that teenagers are using prescription drugs to self medicate as well as to get high.
"They are thinking about it in a very tactical and almost strategic way," said Steve Pasierb, president of the charity The Partnership for a Drug Free America.
"Pharm parties"
He added that there were a wide variety of types of drugs with which teenagers are experimenting.
"The drugs that grab the headlines are the prescription pain relievers. But what we know from the research is it's stimulants, sedatives, psychoactives, anti-depressants."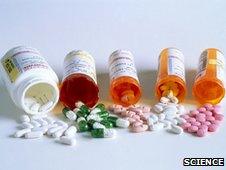 One trend in particular, so-called "pharm parties", are causing concern among drugs charities and law enforcement agencies.
"We see it all the time. The price of admission is a handful of pills. They all go in the bowl, they pass the bowl around and they pop it to see the effect," said Mr Pasierb.
Recent deaths of celebrities including Michael Jackson from prescription drugs have highlighted the problem of abuse.
But there is no sign that those high profile cases are putting people off abusing legal medication.
A recent amnesty held by the Drug Enforcement Agency in New Jersey saw approximately 9,000 lbs of un-used prescription medication handed in.
Gerard McAleer of the DEA says it highlights how easy it is for teenagers to get access to the drugs.
"In the wrong hands it is very dangerous," he said. "We've asked people to talk to their kids, look in the medicine cabinet, take an inventory, secure the medicines you need to keep and dispose of those that have just been sitting there."