Chipmunk: 'I've had a rough time'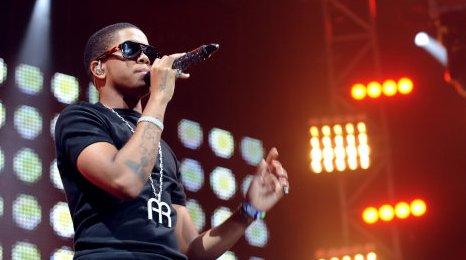 There's just five minutes to go until showtime at 1Xtra Live. More than 12,000 fans inside the Sheffield Arena have been plunged into darkness.
The only lights inside the arena are from mobile phones being held in the air and the illumination from a giant stopwatch counting down the minutes until Jay Sean takes the stage.
In the dressing room area of the giant arena, the boys from JLS are busy pointing friends and family in the direction of their seats and exchanging words of luck.
From the opposite end of the long corridor there's a shuffle of bodies.
Five or six men all dressed in black. The logo on their t-shirts is a give away, AR - Always Recording, Chipmunk's record label.
As for Chippy himself, he's been shielded by his entourage as they guide him towards his dressing room.
He flashes a smile as he goes past, eyes hidden behind dark sunglasses.
It's been a tough month or so for the rapper who turned 19 three days ago. He was ordered to take time off by his record label due to exhaustion.
Apparently the pressure of recording an album and taking his A-levels had taken its toll on such a young man.
As a result, all his upcoming interviews and appearances were cancelled.
1Xtra Live will be his comeback performance.
Health concerns
"Five, four, three, two, one..." roars the crowd.
After a brief introduction from 1Xtra DJ Trevor Nelson, Jay Sean is on stage performing his number one US smash hit, Down.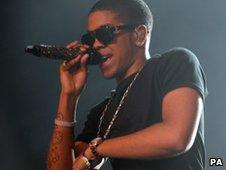 On a widescreen TV in the press room Jay Sean goes through a medley of his hits.
Midway though the singer's set, the door to the room opens and in walks a familiar face - Chipmunk's manager closely followed by the man himself.
The rapper walks in. Black jeans, black t-shirt, black shades.
The outfit is completed by a low hanging platinum chain around his neck with a hefty AR pendant.
As we sit down to talk, Tinchy Stryder is the act now entertaining the 12,000 strong crowd.
We haven't got long. He's due on stage shortly.
A lot's been written about the lead up to him being ordered to take a rest.
The lay off from music didn't last long, and this event means a lot to Chipmunk.
In 2007 he was at the first 1Xtra Live in Coventry - as a member of the audience.
The station has been pivotal in his career. BBC Radio 1Xtra has been playing his music since he was 16.
"I've had a rough time, going through some stuff, but this is the first thing I wanted to come back for", he says. "Just because of the way 1Xtra has supported me, since I was in school."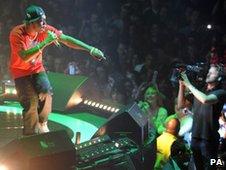 Looking a little nervous and still hiding behind the dark shades, the rapper says he's finally glad to be back in the headlines for his music: "That's what's the priority is right now," he says.
Chipmunk continues to smile and laugh nervously as we run through some more questions.
We move onto how he celebrated his birthday - Chippy turned 19 on 25 November.
It turns out that even with a piece of jewellery costing tens of thousands of pounds around his neck and a pop star lifestyle he is just a 19-year-old at heart.
"I wanted a blender so I could make my own milkshakes", he says. "I didn't get it, but I got some bits for my new house and I saw my parents, it was good."
Another handshake and he's back to being in 'the zone', concentrating on giving Sheffield a show they won't forget.