Website recreates London's West End
There's no litter on the streets, no queues for the shops and hardly any traffic.
For anyone who has battled the real life Oxford Street in London on a Saturday afternoon, the virtual version seems to have a lot going for it.
NearLondon is an exact 3D copy of the capital's main shopping area; Regent Street, Bond Street, and Oxford Street. Piccadilly Circus is there as well.
It's been designed to promote online retail and users will be able to find a store's website by clicking on its digital shopfront.
Selecting an item in the window brings up details for that product.
So far, dozens of big name companies have signed up. The people behind NearLondon say they hope to get every West End retailer on board.
The service is also able to interact with social networking sites. Facebook users can meet their friends online and discuss purchases using video chat.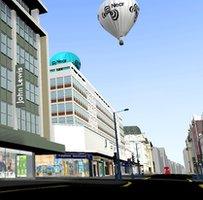 NearLondon says its virtual environment may eventually be used for other, non-retail purposes, including online gaming.
It's the first time the centre of London has been captured on computer in such detail.
Buildings are scanned into the system using laser technology. Each model is built up from thousands of points and some have taken weeks to render.
The company says its product is very different from Google's Streetview and Maps.
NearGlobal founder Alex Wrottesley said: "If they wanted to, Google and Microsoft can always go after a small company, but it's not easy.
"They would have to do something like this which requires a different technology set, a completely different strategy."
Other worlds
NearGlobal is not the only company to try to bridge the gap between the real and online shopping world.
Second Life, one of the internet's biggest 3D virtual landscapes, is home to scores of retailers.
Dell, Reebok, Vodafone, and Sony are among those who have a presence.
New Zealand-based themallplus.com offers a similar shopping environment, however it doesn't attempt to replicate a real world location.
Over the past decade, a number of sites have touted themselves as the future of online shopping.
One of the most high profile failures was Boo.com which went bust in 2000.
The store used an avatar guide and 3D graphics which were considered relatively advanced at the time.
However, many users were put off by what was seen as a slow, clunky interface.