JLS Aston: 'I was racially bullied'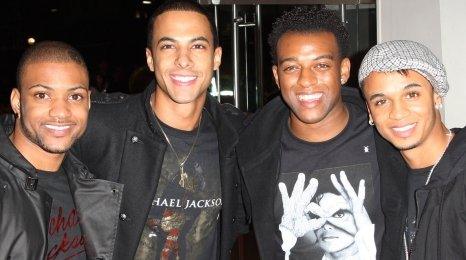 Last year racist bullying saw children in England excluded from primary and secondary schools almost 4,000 times. As part of Radio 1's bullyproof anti-bullying campaign, Aston Merrygold from JLS has been talking to BBC Switch presenter Anthony Baxter about his experience of being a victim of this type of abuse.
At 14 Aston joined a football team that some of his friends were in. He was the only black member of the team but says he never thought that would be a problem.
"When you first start in a team, people start to get comfortable with you and you start to make friends," he said. "You have a laugh, and all mates take the mick out of each other, but it got to the point where they'd start making jokes about things that were irrelevant. Skin colour started coming into."
Watch: Aston speaks to Switch about bullying
He says what started off as typical changing room banter, soon became serious racist abuse.
"They would literally come out with stupid stuff. Obviously me being half black and half white, no Asian heritage at all, they'd come out with 'you look like a Paki'," Aston revealed.
"World wide we were going through all that stuff with Osama Bin Laden, and they would say 'he's your cousin'. Looking back, it doesn't make any sense, but at the time it was hurtful." Aston tried to stay stong but it wasn't easy. "I used to literally mask it, 'yeah whatever', but when I'd go home and I was on my own, I was really upset by it."
Pupils excluded
The true level of racist bullying in schools in the UK isn't known. At the moment the only way to quantify the problem is by looking at the number of cases that result in a pupil being suspended or expelled.
In England last year children were excluded from primary and secondary schools 3,970 times. In Wales, there were 580 cases, but some of those were for sexual harassment. In Scotland and Northern Ireland, officials have said they don't have specific figures for racial bullying.
Worldwide we were going through all that stuff with Osama Bin Laden, and they would say 'he's your cousin'. It was hurtful.
Aston says he is shocked racism is still a problem in the playground.
He said, "There are still some people who feel it's ok to say something about people's skin tone".
"As hard as it is, it has to be one person at a time," he said, when asked what the solution is. "You can only change one person at a time. It will happen, it will change, but it's going to take a lot of time."
Teachers speak out
Earlier this year a survey of over 800 teachers showed that nearly half thought racist bullying was a problem in their school. The government says all schools should have a strong anti-bullying policy, which should also include measures to tackle racist bullying.
The teaching union, the NUT says that anti-bullying policies in schools only work if all staff, parents and pupils are aware of the damage racial bullying can do. It wants all racist incidents in schools recorded.
Jasmine, 14, goes to a school in south east London. She says while she's not been bullied racially herself, she has witnessed it.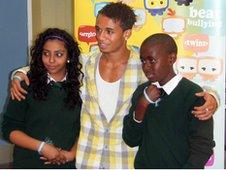 "At my primary school there weren't very many black people there, and those that were there were bullied for it," she explained. "It was really racist. The majority of people were white. It was like, that's it, you're going to get hurt or called names. It wasn't nice."
Omar, 16, was born in Exeter in Devon. His parents are both from Libya and he says he lives an Arabic lifestyle. He's been the victim of racism because of this, and thinks ignorance is at the root of the problem.
"I think that's just human nature. Who isn't racist? Everyone's been racist at least once," he said. "I don't think it's hatred I just think they're unaware. They don't hate Arabs, they just see newspapers and think 'there was a terrorist attack and he was an Arab, we might see Arabs as terrorists'. But we're not."