Crackdown on model agency fees
At the very least, it's a good ego boost. You get stopped in the street by a man with a clipboard and told you could be the next Kate Moss or Agyness Deyn. Before too long you're signed to a little known model agency. It costs £100 up front but, for many, the glamorous work never materialises. Now after years of pressure from campaigners, model agencies will be banned from charging those high fees before finding you any work.
Under new government plans it will be illegal to take money in advance to represent a model or publish their details on a website or in a directory.
"I don't want to tread on anyone's hopes or dreams," said Business Minister Pat McFadden. "But I don't want to see those hopes and dreams exploited."
High street model agencies typically pick up business either by approaching people directly or advertising a casting session at a nearby hotel.
Over the last few years those firms have been joined by internet agencies that work entirely over the web.
The largest, Models Direct, lets you upload your own pictures to its online directory. It matches models up with clients including television companies, photographers and local firms.
Models typically pay an upfront fee of £126 for three years worth of representation although a £75, 12-month option is available.
'Whimsical fun'
The firm also takes a 33% cut of any work, far higher than most professional agencies.
Models Direct's co-owner, Suzy O'Conner, claims to have "thousands" of happy customers.
"Many models have been selected by clients within days, even hours, of registering," she said.
"People registering as a model usually do so for a little whimsical fun, a part-time 'give it a go' trial just to see what, if anything, happens, although we do also register full time professional models."
There is no evidence Models Direct acts illegally or promises to guarantee assignments. But campaigners say they still receive regular complaints.
"Companies like Models Direct can of course show a single case of someone getting work immediately.
"But providing a small fraction get actual work, they have no obligation to find work for the others," said Clive Hurst who runs a respected website advising models on how to get work.
'Prey on our dreams'
Nineteen-year-old Ella signed up to a three-year deal with Models Direct in 2008.
"I sent off some pictures and they phoned back saying they were being shown to the top people there to see if I was good enough," she told Newsbeat.
Looking back I was stupid but I got caught up in the moment
Ella, 19, who signed to a model agency but hasn't been offered any work
"They really butter you up and flatter you."
Ella ended up paying a 'cut price' £200 for her and her baby son.
"I really thought I was bound to get some work but I was just daydreaming. Eighteen months later and I've been offered no jobs whatsoever," she said.
"These companies prey on our dreams. Looking back I was stupid but I got caught up in the moment."
Newsbeat has spoken to other customers with similar complaints. Models Direct claims some approach the business with a "distorted expectation" of reality.
"Inevitably, as with any selection process, there are models who are disappointed at not being selected for assignments," said Suzy O'Connor.
Rules 'ineffective'
In 2008 the government bought in new rules clamping down on upfront payments.
Firms like Models Direct already have to give customers a seven day "cooling off period" after handing over their card details when they can ask for a full refund.
The government now admits that protection has been "ineffective".
The clause was never mentioned in emails or phone calls to a Newsbeat reporter posing as a Models Direct customer.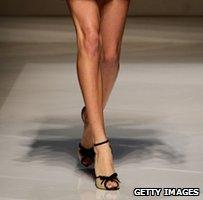 After signing up, the agency said it takes seven to 10 days to "complete the registration process". The only mention of a cooling off period came not in an email or on the phone but in fine details on the company's website.
Models Direct also told our reporter that it works with well known high street names like: "L'Oreal, House of Fraser, easyJet, Miss Selfridge and Thomas Cook Holidays".
When we contacted the firms all said they had no recent record of working directly with the agency though Thomas Cook Holidays later confirmed it had worked indirectly through an independent photographer.
We asked Models Direct to explain. The firm maintained it has never misrepresented a client and said some of that work was through a third party. It supplied a list of dates as evidence.
Upfront money ban
In the case of Miss Selfridge and House of Fraser the most recent bookings appeared back in 2002 and 2005. Both companies have since been taken over and do not have records going back that far.
Easyjet told us it has never worked directly with the agency but does not keep all records of third party work.
L'Oreal strongly denied it had ever worked directly with Models Direct and has asked its lawyers to take action to remove its name from the firm's website.
This is the inevitable consequence of a sledge hammer being used to crack a nut
Suzy O'Connor at Models Direct on plans for new rules governing agencies
Now the government says it will ban agencies like Models Direct from taking any money up front from television extras and models - groups ministers say are "particularly vulnerable".
Draft regulations will be given to MPs this month and come into force in October 2010.
Agencies that break the law could face prosecution and courts could impose unlimited fines for the most serious offences.
Suzy O'Connor at Models Direct claims the ban is counterproductive and could force the industry overseas.
"This is the inevitable consequence of a sledge hammer being used to crack a nut," she said.
"If fees are banned the publication could not be sustained. Without publications opportunities would be lost, opportunities which have spawned many successful modelling careers and assignments."
But campaigners like Clive Hurst reckon a change to the law is well overdue.
"It is definitely a step in the right direction but it's a cautious step," he said.
"We don't know yet how they will enforce these new regulations and if some of the firms will just set up shop offshore as a result."
"Agencies should jump through a hoop to sign the right people and make their money from the work they generate."