Computer device 'helps' diabetics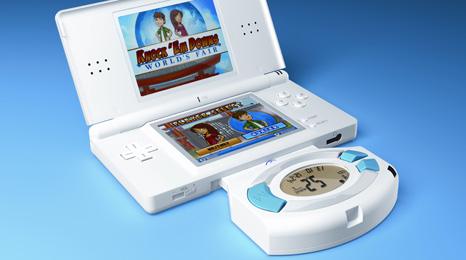 A handheld computer console game has been developed to help diabetic children monitor their condition.
The Didget system for the Nintendo DS is designed to encourage young people to test their blood sugar levels regularly.
Users download the results to their console and are rewarded with game points.
25,000 children in the UK have diabetes. Those with type 1 need to test their blood every few hours.
The regime can be tough, according to 11-year-old George Dove: "It is boring, but I am quite good at remembering to do it because I know if I don't do it, I know that I could get really ill," he said.
"When I am low I go really shaky, get blurred vision and can't speak very well. After the first year or so you get used to it and I know when I am having a hypo."
Hypoglycaemia, or low blood sugar, is one of the risks associated with diabetes.
However, if the condition isn't managed properly it can lead to heart disease and blindness.
Weight loss
Health experts stress the importance of regular self testing.
That has been made easier in recent years, thanks to new technology, according to Karen Addington of the Juvenile Diabetes Research Foundation.
She said: "It is incredible how much improvement there has been, and things are still being developed.
"One of the projects the JDRF is hoping to deliver soon is an artificial pancreas. That is two devices that can talk to each other - an insulin pump and a continuous glucose monitor which will control someone's type 1 for them."
The Diget system is not manufactured by Nintendo, but operates with the DS console. It costs £29.99.
Recently Weightwatchers UK agreed to use Nintendo Wii Fit Plus as part of its weight loss programme.
TV presenters Ant and Dec have been signed up to promote the initiative.
The software has also gained official backing from the Department of Health.
However, the same programme has also been criticised by the National Obesity Forum for telling children they are fat.